Former all-rounder Phil Simmons has been confirmed as the new West Indies coach, and he's more than happy to be back with the Windies.
"It means a helluva lot because it's something that I've always desired to do," Simmons told WICB Media after confirmation of his appointment by the West Indies Cricket Board yesterday.
"To give back to West Indies cricket and to make sure I help the cricket get back to where we had it when I played…For me to give a helping hand in trying to get back to that level, it means a lot to me," he added.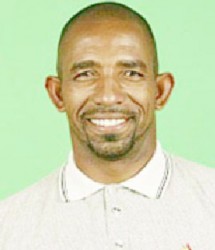 Simmons will now oversee the Caribbean side's three-Test series against England starting next month.
In their release yesterday, the WICB quelled speculation over Simmons' future by announcing that the 51-year-old Trinidad-ian would take up the post made vacant by the axing of Barbadian Ottis Gibson last August, just ahead of the Bangladesh series.
Simmons, who spent the last eight years in charge of Ireland, was selected from among seven candidates and has been handed a three-year contract.
Michael Muirhead, the WICB's chief executive, said Simmons was the right person to take the team forward.
"We are thrilled with the appointment of Phil and we believe he is the right individual for our team and our region at this time, so we want to welcome him back home," Muirhead said.
"Phil has a proven ability to develop players, while cultivating great team spirit and a winning culture. We have a number of young, talented players about whom he is excited to be coaching and we believe he is the right fit."
He continued: "Phil has impressed us with his understanding of the current realities of West Indies cricket and his ability to articulate practical examples and strategies of things that could be implemented within the team to improve performance.
"His independence of character and his resolve to stand up for what he believes in were also strong qualities that convinced us that Phil was best suited to usher the West Indies team into a new era of success."
Since succeeding Adi Birrell back in 2007, Simmons oversaw the capture of two Intercontinental Cups while ensuring qualification for four successive World Twenty20 campaigns.
In 2013, Ireland – an associate International Cricket Council member – became the first team to win the Associates' treble of the Intercontinental Cup, World Cricket League and Twenty20.
Ironically, only recently, Simmons inspired Ireland to a shock four-wicket victory over West Indies in their opening game of the Cricket World Cup.
A former Zimbabwe coach, Simmons confident the Caribbean had a suitable pool of talent with which to work.
"I haven't seen a lot coming up through the ranks, but the one thing you are sure (of) in world cricket is that West Indies and Pakistan produce some of the most talented youngsters and it's how they mature from being a youngster into a senior player that creates the teams that we've had," he said.
"So the talent pool has always been there, it's just now we have to make sure we find a way of setting up a structure that would develop that talent a bit quicker than it has been."
Simmons brings to the post an international playing career that spanned 12 years and included 26 Tests and 143 One-Day Internationals.
After the April 6 to May 5 English series, the powerful Australians arrive for two Tests in June.
 (Reprinted from Trinidad Express)
Around the Web