The National men's rugby team departed yesterday for the prestigious Cathay Pacific/HSBC 7s tournament which is scheduled to kick off from March 27 to 29 in Hong Kong.
The team dubbed the 'Green Machine' along with three officials left the Cheddi Jagan International Airport at 17:50hrs aboard a Caribbean Airlines flight and will return in two batches, the first on March 31 and the other on April 1.
As customary, the Hong Kong 7s will attract the world's best 28 teams, 16 core teams with one invited and an additional 12 teams contesting the international HSBC Sevens World Series qualifier for a chance at promotion to the international series in 2016.
This year's tournament is extra special as it marks the Hong Kong Rugby Football Union's commemorations of 40 Years of Sevens in Hong Kong.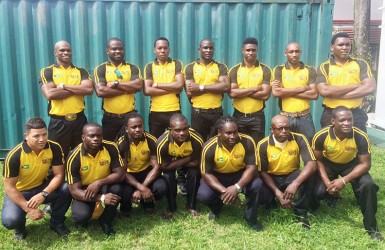 Speaking to Stabroek Sport yesterday, the Technical Director, Australia based Angus Thomson, said the best players were chosen since the goal is to be competitive.
"I expect us to go to Hong Kong and be competitive. Its all about getting out the box early. I believe that we have got the personnel to go there and compete. I am optimistic that we can come back with a decent performance."
The final team of 12 players, which features a mixture of veterans and newbies, will be aiming to impress on their return to the annual competition after missing the last two years for a myriad of reasons one of which included financial constraints.
Guyana (one of the 12 teams playing for core status) will be looking to come away with a few upset wins.
Said captain Ryan Gonsalves, " Hong Kong is no easy tournament and we have to stay grounded, these teams are the top level teams but at the same time we are going there to try our best and see if we can knock off a few teams and get some wins."
He added "We are the underdogs but we are confident we can upset a few big teams, we need to some practice games to get up to the speed and we will have to adapt and try our best in every game."
Seeded 27th, Guyana, the NACRA Sevens champions along with runner up, Mexico qualified to represent NACRA at the championships in Hong Kong.
Guyana is pooled in the first round of the tournament to play Zimbabwe, Spain and Tonga.
Also in the second division are  Russia, Papua New Guinea, South Korea, Tunisia, Hong Kong, Uruguay, Brazil and Mexico.
The squad reads:Ryan Gonsalves (C), Claudius Butts, Richard Staglon, Ronald Mayers, Patrick King, Peabo Hamilton, Kevin McKenzie, Avery Corbin, Lancelot Adonis, Dwayne Schroeder, Rickford Cummings and Vallon Adams.
The officials are Angus Thomson (TD and Manager), Theo Henry (Head Coach) and Barry Brown (Strength and Conditioning Coach and Physio)
The championships which is firmly established as the world's premier event of its kind and one of the most popular annual sporting events in Asia is far superior to NACRA and the 'Green Machine' will have to play in robot mode in every game to acquire core status.
Around the Web