WELLINGTON, New Zealand, CMC – West Indies' turbulent ride at the ICC Cricket World Cup ended in equally chaotic fashion here yesterday, when they crashed to a heavy 143-run defeat to joint hosts and tournament favourites New Zealand at Wespac Stadium.
Seeking what would have been a fairy-tale berth in the semi-finals, West Indies were savaged by Martin Guptill's record unbeaten 237 as New Zealand piled up a massive 393 for six off their 50 overs.
In pursuit of an improbable victory target, West Indies were never really in the hunt despite a whirlwind 61 off 33 balls from Chris Gayle, and were dismissed for 250 off 30.3 overs.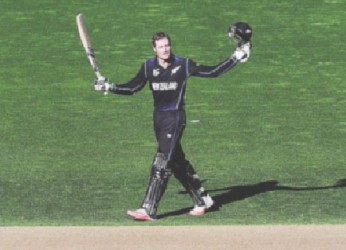 The left-handed Gayle counted two fours and eight massive sixes to give the Caribbean side a rollicking start but they slumped to 80 for four in the tenth over courtesy of the lethal left-arm seamer Trent Boult, leaving the result a mere formality.
Captain Jason Holder supported with 42 down the order while Jonathan Carter hit 32 and Marlon Samuels and Darren Sammy, 27 apiece.
Boult again did the bulk of the damage picking up four for 44 while veteran left-arm spinner Daniel Vettori (2-58) and seamer Tim Southee (2-82) grabbed two wickets each.
The victory for New Zealand sent them into the semi-finals where they will now face South Africa at Eden Park on Monday. India and Australia meet in the other semi-final on two days later in Sydney.
Losing the toss, West Indies were taken apart by the right-handed Guptill whose knock was the highest ever score in a World Cup and the second highest in One-Day Internationals.
He thumped 24 fours and 11 sixes off 133 balls, becoming the first New Zealander to hit an ODI double and the fifth player overall in international cricket.
New Zealand lost Brendon McCullum for 12 in the fifth over with the score on 27 to a brilliant running catch by Holder in the deep but Guptill anchored a string of partnerships to propel the innings.
Dropped at square leg by Samuels on four off the third ball of the game, Guptill put on 62 for the second wicket with Kane Williamson who hit 33 before posting a punishing 153 for the third wicket with Ross Taylor who got 42.
Guptil then added a further 55 for the fifth wicket with Grant Elliott who scored 27.
The right-hander's first fifty was a patient effort, needing 64 balls and he completed three figures off 111 deliveries in the 35th over, to mark his second hundred in is many outings.
With the landmark out of the way, he opened up and his next 50 runs required a mere 23 balls as he took the wayward West Indies bowling apart. He raised his first ODI double hundred off 152 balls at the start of the 48th over when he belted Russell to long off for his 21st four.
He then celebrated by blasting a six and two more fours off the over, which cost 18 runs, as the last ten overs gushed 153 runs.
Fast bowler Jerome Taylor finished with three for 76 from seven overs while fellow pacer Russell claimed two for 96 from his ten.
West Indies then suffered an early setback in their run chase when Boult bowled Johnson Charles for three in the second over with the score on four and then had Lendl Simmons caught at second slip by Guptill for 12 at 27 for two.
Gayle and Samuels counter-attacked in a second wicket stand of 53 off 22 deliveries, that offered West Indies a ray of hope.
In Vettori's first over, the seventh of the innings, Gayle smashed three successive leg-side sixes as the over went for 21 and Samuels single-handedly ripped apart Southee in the ninth over, which also leaked 21 runs.
Samuels had hit three fours and a six off 15 balls when he fell to a stunning, one-handed leaping catch by Vettori on the ropes at backward point off Boult.
Four balls later, Boult trapped Denesh Ramdin plumb lbw without scoring, as the Windies challenge withered.
Gayle added a further 40 with Carter for the fifth wicket before edging a heave off seamer Adam Milne onto his stumps in the 17th over.
And though the inevitable remained obvious, West Indies kept swinging, and Sammy and Carter gathered 46 off 29 balls for the sixth wicket, before they both fell in the space of eight balls in successive overs.
Not for the first time in the tournament, Holder showed his touch with the bat, striking five fours and two sixes off 26 balls but his dismissal – holing out to long-off off Vettori – ended the innings.
Scoreboard
NEW ZEALAND
M Guptill not out 237
*B McCullum c Holder b Taylor 12
K Williamson c Gayle b Russell 33
R Taylor run out 42
C Anderson c Gayle b Russell 15
G Elliott lbw b Taylor 27
+L Ronchi c Benn b Taylor 9
D Vettori not out 8
Extras   (lb2, w7, nb1) 10
TOTAL (6 wkts, 50 overs) 393
Did not bat: T Boult, A Milne, T Southee
Fall of wickets: 1-27 (McCullum, 4.2 overs), 2-89 (Williamson, 16), 3-232 (Taylor, 38.3), 4-278 (Anderson, 43.2), 5-333 (Elliott, 46.3), 6-365 (Ronchi, 48.4)
Bowling: Taylor 7-0-71-3, Holder 8-0-76-0 (w1), Benn 10-1-66-0 (w2), Russell 10-0-96-2 (w2, nb1), Sammy 8-0-38-0 (w1), Samuels 7-0-44-0.
WEST INDIES
C Gayle b Milne 61
J Charles b Boult 3
L Simmons c Guptill b Boult 12
M Samuels c Vettori b Boult 27
+D Ramdin lbw b Boult 0
J Carter b Vettori 32
D Sammy c wkp Ronchi b Anderson 27
A Russell b Southee 20
*J Holder c Anderson b Vettori 42
J Taylor c Guptill b Southee 11
S Benn not out 9
Extras (w6) 6
TOTAL (all out, 30.3 overs) 250
Fall of wickets: 1-4 (Charles, 1.2 overs), 2-27 (Simmons, 5.3), 3-80 (Samuels, 9.1), 4-80 (Ramdin, 9.5), 5-120 (Gayle, 16.1), 6-166 (Sammy, 21.1), 7-173 (Carter, 22.3), 8-201 (Russell, 25.1), 9-221 (Taylor, 28), 10-250 (Holder, 30.3).
Bowling: Southee 8-1-82-2 (w1), Boult 10-3-44-4 (w2), Vettori 6.3-0-58-2, Milne 4-0-42-1 (w2), Anderson 2-0-24-1 (w1).
Result: New Zealand won by 143 runs.
Series: New Zealand qualify for World Cup semi-finals.
Man-of-the-Match: Martin Guptill.
Toss: New Zealand.
Umpires: Aleem Dar, Ranmore Martinesz; TV – Richard Kettleborough.
(Caption) Martin Guptill's masterclass helped eliminate the West Indies from the World Cup competition yesterday.
Around the Web