England born and based duo Neil Danns and Matthew Briggs have officially been included in the Golden Jaguars squad for the international friendly against Grenada Saturday following their arrival on local shores.
Briggs, 24, who has represented the country of his birth at the u-16, u-17, u-19, u-20 and u-21 levels, rose to prominence after being the youngest player to feature in the English Premier League following an appearance for then Fulham FC on May 13th 2007 against Middlesborough.
At the time of his debut, Briggs was 16 years and 65 days. He erased the previous mark held by Everton forward James Vaughan by 206 days. Danns has plied his trade for several notable English sides inclusive of Blackburn Rovers, Blackpool, Birmingham City and Crystal Place.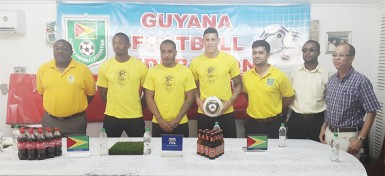 The midfielder is currently on the books of Bolton Wanderers and has yet to be capped by the nation of his birth. Both players are eligible to represent Guyana through their grandparents.
Speaking at a press conference held at the Guyana Football Federation headquarters, Danns said he is honoured to be in Guyana and that he is looking forward to getting involved with the national team and bring a new dimension to the programme.
He said he is thankful to the management staff for the opportunity and that he wants to give back to the discipline to aid its development locally.
Briggs said while he had received a few offers prior from the Guyanese programme, he was a part of the English junior setup and as such, declined the proposals.
"At the time I was around the England youth set up and back then I was a young and not as mature as I am now but after I played for the under 21's I thought to myself that, I'm Guyanese and now I have a chance to make a contribution and to play for my country".
Questioned about the qualities he will bring to the team, Danns said he brings the experience of playing at a highest level in England but will also convey a professional approach both on and off the field with regards to how you diet, train and rest.
"I feel with our experience I think we can show the local lads, especially those who never had the opportunity to work with professional players that we've worked with. We can pass on that knowledge" he added.
Head Coach Jamaal Shabazz during an invited comment said he is happy for the decisions taken by Danns and Briggs to represent the Golden Jaguars, noting it is an interesting time not only for Guyana Football but for Caribbean Football generally.
Shabazz further said as a small federation, we are very ambitious and that ambitions is what drives us to seek new frontiers. He noted that the time has come for us to compete against the more senior sides in the region and that in order to so, it is necessary to have players like Danns and Briggs for what they can provide and bring to the table.
Around the Web