Chase Academy will battle Morgan Learning Centre while defending champs Lodge Secondary will oppose Dolphin Secondary in heavyweight semi-final matchups in the third annual Milo/Petra Organization Secondary Schools u-20 football tourney today at the Ministry of Education ground.
In what can be easily described as a finale, the feature contest at 16:00hrs will pit the tourney's marquee programs in a keenly anticipated tussle.
From an attacking standpoint, Chase Academy has registered an impressive 20 goals over five fixtures. This equates to four goals per game, tied for the most goals scored among the remaining teams.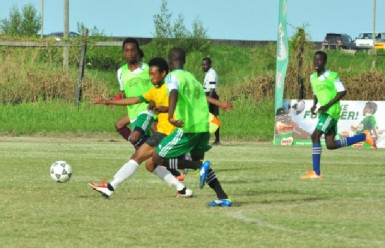 Further inspection of the stats highlight that the Parade Street institution has scored 11 goals during the two knockout round matches which translate to 5.5 goals per game. While the offensive burden have been shared among several players, Isaiah Reddy and Marlon Nedd lead their scoring charts.
Reddy has netted seven goals to date, four of which have come in the knockout round while Nedd has scored four goals. However three of his conversions have come in the elimination round.
Defensively, Chase Academy has been equally imposing as they have only conceded three goals over the entire five match campaign due to their solid defence led by the combination of Jeremy Garrett and Simeon Moore.
Despite their resounding numbers, Chase Academy will be wary of their impending foes who possess an equally impressive resume. Offensively, Morgan Learning Centre has scored 18 goals to date, six of which have come off the boot of Ronaldo Dover and five off the cleats off Wayne Murray.
A closer examination of their attacking numbers illustrate that they have scored 10 goals in the knockout stage which breaks down to 5 goals per game.
Once again, the combination of Dover and Murray have been the main providers with three goals apiece while the trio of Keron Solomon, Toquan Clarke and Randy Layne share one goal each for this vaunted strike force.
With regards to their defensive powers, Morgan Learning Centre has conceded four goals over five games, two of which have come in as many knockout rounds.
The opening matchup of the final four at 14:00hrs also promises to be an exciting fixture as the defending champs will attempt to keep their hopes alive of a successful title defence.
Similar to the aforementioned teams, Lodge Secondary has been a revelation going forward, netting a joint leading 20 goals to date over their five matches. The group stage saw the Jamoon Street unit racking up a whopping 13 goals in three games while the knockout round has played witnessed to seven further conversions in two fixtures.
Midfielder Jarel Granum has been the revelation for the champions going forward with six goals, two of which have come in the knockout round. Support has also come in the form of Sylvester Joseph and Ryan Hackett, both of whom have netted four goals each in the event.
On the defensive end, Lodge Secondary has greatly improved, conceding once in two knockout matches after initially being breached on four occasions in the group stage.
It is a known equation that defense wins championships and with that mantra, Dolphin Secondary will be a formidable unit after only conceding three goals in five matches, two of which came in their first group fixture draw against the attack minded Morgan Learning Centre.
So far the only other blemish came during their round of 16 matchup, which means they have only conceded once in four fixtures, easily the best defensive record among the remaining sides.
Offensively, Dolphin Secondary has registered 15 goals over five matches, four of which have come in the two knockout games. Leon Richardson has been the primary threat going forward with six goals while Dakhawn Matthews and Joshua Ferreira are the next best scorers with two goals each.
Winners of the event will pocket the championship trophy and $500,000 towards the building of any school project while the second, third and fourth placed sides will pocket $300,000, $200,000 and $100,000 respectively towards the funding of a school venture and the corresponding accolade.
On the individual side, awards will be given for the event's most valuable player, highest goal scorer and best goal keeper while four full scholarships to attend Chase Academy free of cost will also be up for grabs.
Around the Web