Patanjalee 'Pur' Persaud on Saturday won the David de Caires/Basil Sukhram Memorial golf tournament at the Lusignan Golf Course.
It was Persaud's second tournament win in as many months following his victory in the Ansa Mc Al tournament exactly one month ago.
"The greens were a bit tough, because the grass was cut very low, and extra concentration was required not to over-putt the ball," said Persaud following Saturday's win.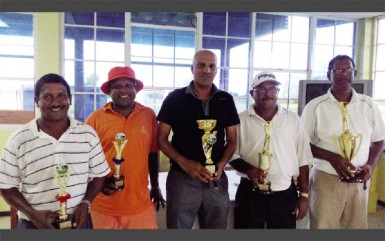 According to the winner he was happy that he was able to deliver such a good day's play especially since the late Sukhram was one of the country's top golfers. Five prizes were awarded and the winners were as follows: Best Net – `Pur' Persaud 25/70, 2nd – Patrick Prashad 9/71 and third Captain 'Chen' Deo, 15/71. Nearest to the Pin was won by Mike Mangal, who was the only golfer to place the ball on the green in the tournament while the Best Gross prize went to Imran Khan 7/79.
Daughter of the late Basil Sukhram, the Guyana Open reigning female champion, Christine Sukhram, who also participated in the day's competition, was on hand to hand out the prizes to the winners.
Club President David Mohamad said that it was important to remember the great contribution that some former golfers had made to the Lusignan Golf Club, and expressed his appreciation for the continued good spirit exuded by the golfers as they competed.
The late de Caires was a former Editor-in-Chief of the Stabroek News and he also served a stint as Club Captain of the Lusignan Golf Club (LCG).
De Caires and his wife Doreen, who at one time was the country's top female golfer, played vital roles in among other things, sustaining competition at the LGC.
Around the Web