(ICC) India's ICC Cricket World Cup 2015 campaign, colourful and vibrant and fearless, ended with a whimper yesterday, allowing Australia to set up a title clash against trans-Tasman neighbours and co-host New Zealand at the MCG tomorrow night.
A vast majority of the packed house at the Sydney Cricket Ground seldom found its collective voice as India was conquered once again by Steve Smith, its principal tormentor in the Test series in December-January, and the scoreboard pressure that is invariably amplified on a stage as imposing as the semifinal of a World Cup.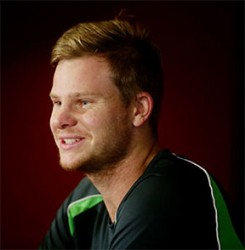 Australian fears proved unfounded as the SCG pitch held up extremely well, encouraging stroke production in the afternoon and slightly quickening up under lights. Michael Clarke hit it lucky with the coin after Mahendra Singh Dhoni called wrong, and his ear-to-ear grin as he said "We'll have a bat" indicated both elation and a little bit of relief.
Smith, whose tally against the Indians in international cricket at home this season stopped at 921 when he was dismissed for his fourth One-Day International century, guided Aaron Finch through several sticky periods during a second-wicket association of 182. Then, after a slight wobble, the heavy artillery in the Australian lower order expressed itself as the home side amassed 328 for 7.
Even though India has successfully chased down 300-plus totals a record 15 times, only once has such a target been scaled at the SCG. India needed to come up with its best batting display of the tournament to make up for their most expensive bowling stint – for the first time in eight games, they also failed to bowl out the opposition – but that was going to be a tall order against a formidable Australian attack further emboldened by the bulk of runs behind it.
Apart from an enterprising 76-run opening stand between Shikhar Dhawan and Rohit Sharma, India had little at the top of the tree to benefit from. Once Dhawan and Virat Kohli, out of sorts all game, fell within 16 deliveries of each other, the writing was clearly on the wall. India was bowled out for the first time in the competition, their 233 all out formalising Australia's sweeping 95-run victory.
Kohli's dismissal most certainly knocked the stuffing out of the Indian chase. Dhawan, dropped on 5, motored to 45 and completed 400 runs for the tournament, blunting the pace and swing of Mitchell Starc. But he fell against the run of play, charging and driving Josh Hazlewood to sweeper cover. Kohli was greeted to the middle by a mixture of applause – from the Indian supporters – and boos from the Australian minority. He played 12 balls carefully for one run, then attempted an outrageous pull from outside off and at shoulder height against the left-arm-over angle of Mitchell Johnson. Brad Haddin gleefully held the resultant top edge, Australia broke into wild celebration. A poor stroke under any circumstance from the master of the chase, and most deflating given the stage.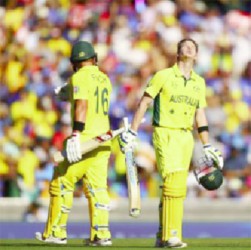 India's fight unspooled as Rohit and Suresh Raina fell to Johnson and James Faulkner respectively soon afterwards. The vaunted Indian batting line-up had been blown away, leaving Ajinkya Rahane and Dhoni to pick up the pieces. With 70 off 80 deliveries, they raised a glimmer when Starc snuffed that hope out on a review. From 178 for 5, even Dhoni and his fiery half-century fell well short of pulling the fat out of the fire, especially with Smith and Glenn Maxwell headlining an excellent fielding night with direct hit run outs.
In the afternoon, India's bowlers went short in looking for the pull, with mixed dividends. Three of Umesh Yadav's four wickets came against the back of a length delivery, both of Mohit Sharma's victims were dismissed playing the pull, but India also paid a heavy price in between with Smith taking particular toll. Between periods of vast discipline, India also leaked a fair few runs as the bowlers banged the ball in on a surface that blunted their efforts.
The tackiness of the SCG pitch early on had a role to play in David Warner's fourth-over dismissal. Having warmed up with a four and a six in Umesh's previous over, Warner was defeated by a combination of lack of pace and steepling bounce, the leading edge lobbing gently to mid-off's hands.
At 15 for 1, India had struck an early blow, evicting one of two men who had tormented them during the Test series earlier in the summer.
The second danger man was in no mood to oblige, however. Smith, who smacked four centuries in as many Tests, has had a decent World Cup without setting it on fire, three half-centuries indicative of his touch but the missing hundred suggesting that he had yet to hit top gear. Back against an attack that he seems capable of mastering even in his sleep, Smith ticked over into cruise mood from the beginning, warming up with a silken drive down the ground off Umesh and then pulling him to shreds when Umesh repeatedly pitched the ball in his own half of the deck in his next over.
Smith's flowing start meant Finch, desperately seeking a score of substance, could bat at his own pace. Subdued to the point of being scoreless for long periods, he never ever looked in, stymied both by his own rust and the discipline with which India bowled at him. There were a couple of handsome strokes off the back foot, but they weren't strung together with any regularity for Finch to claim that he had the measure of the bowling.
Mohammed Shami had a rare off-day, the rub of the green not going his way as several edges flew over the slip cordon, and with both Umesh and Mohit going for a fair few, India couldn't exercise control until R Ashwin was summoned in the 18th over. Ashwin immediately fell into excellent rhythm, unafraid to challenge the batsmen with loop and dip, and making capital of whatever little turn from a pitch that totally confounded the alarmists. Not even Smith could dominate Ashwin, such was the off-spinner's control over his craft, but Australia didn't need to take any risks as the other end produced runs aplenty.
The Batting Power Play, taken in the 33rd over, opened the floodgates as Smith took Shami apart and Finch turned his attention to Mohit. The first two overs brought 30 runs, and Smith brought up his first World Cup ton in just 89 deliveries without ever seeming in any hurry. The second-wicket pair had realised 182 in just 186 deliveries and with nine wickets in hand, Australia looked on course for 360 with the Power Play alone producing 64.
Then began the Indian recovery. Umesh finally forced Smith to mistime a pull, and though Maxwell briefly flourished, Ashwin teased him into submission. Immediately, India was all over the Australians. Finch and Clarke perished to the pull stroke, and Australia had handed some of the initiative back to its opponent.
The depth in firepower in the Australia batting stood up with Shane Watson, Faulkner and Johnson making frenetic runs at the end. The last eight overs yielded 80 after only 16 had come in the previous five. It was a grandstand finish befitting of the Smith masterclass earlier in the afternoon. As it turned out, it was a few bridges too far for India, too.
Around the Web