A desperate last minute extra-time Devon Millington goal propelled an uninspiring Bakewell Slingerz into the quarterfinal round, defeating Victoria Kings 2-1 when the 25th edition of the Kashif and Shanghai Football Tourney continued on Wednesday.
With the scores locked 1-1 at the Demerara Cricket Club (DCC), the mercurial forward upon skipping past his marker and the onrushing keeper, would bury his effort into the empty net to break Victoria hearts in the 119th minute.
Due to the win, the Vergenoegen giants will now lock horns with Tucville giants Fruta Conquerors today at the same venue in the feature doubleheader from 20:30hrs.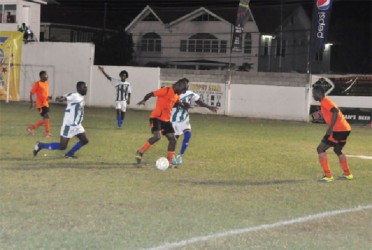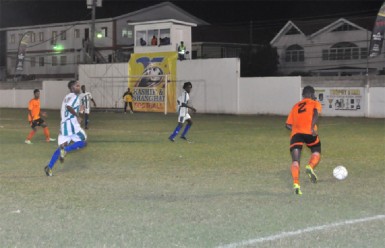 Prior to the fixture's dramatic conclusion, Millington should have opened the scoring in the 15th minute, lashing his effort wide of the lower left corner after being in a one-on-one situation with the keeper within the right side of the box.
Dexroy Adams would then give Slingerz FC the lead in a bruising half in the 44th minute, volleying his first time right-footed effort into the top left-hand corner after a right-sided cross evaded the entire backline and fell into his path.
Millington almost doubled their lead in the 53rd minute, curling his 26- yard right-footed free kick just wide of the right-hand corner from outside the left of the penalty box.
The fixture would then be turned on its head as Alden Lawrence of Victoria netted seven minutes onward, slotting home unchallenged within the right corner after a left-sided Winston Pompey pass fell perfectly in his direction within the right side of the box.
Adams almost pushed the West Demerara unit back into pole position in the 77th minute compliments of a first time effort inside the left of the box which was denied by the onrushing custodian after collecting a lobbed right-sided pass from Clive Nobrega.
The crossbar would then come to the aid of the East Coast of Demerara unit in the 109th minute as a thunderous Phillip Moffat right-footed effort from 30 yards out in the centre of field, came crashing into the woodwork, much to the relief of the custodian.
With penalty kicks looking like a distinct possibility, Millington would net the go-ahead winner within the left side of the box down the middle of the goal to seal the hard-fought win.
In the earlier fixture, Alpha United defeated Agricola Red Triangle by a 2-0 score line compliments of a double from Manasseh Primo.
With the victory, Alpha United will now face off with the Georgetown Football Club (GFC) today from 18:30hrs at the same venue.
The winner of the event will receive the championship trophy and $2,000,000 while the runners-up will collect $1,000,000 and the respective title. The third and fourth-placed teams will receive $500,000 and $250,000 respectively with the corresponding accolade.
Around the Web