Guyana Jaguars skipper Leon Johnson who now joins an elite cadre of Guyanese cricketers that have won a Regional four-day title, said the discipline and hard work displayed by his team throughout the season has finally paid off with victory in the 2014/15 Professional Cricket League (PCL) tournament.
The 27-year-old West Indies Test and One Day International (ODI) batsman and his team returned to Guyana on Wednesday after triumphing over the Windwards Islands Volcanoes in the final round of the tournament.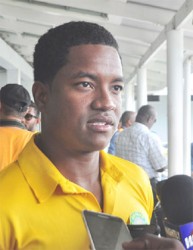 "It feels great, we already knew we won after we beat Trinidad but it was official when we collected our trophy and medals after the Windward Islands in Dominica. After 17 years we are the 4-day champions, we put in a lot of hard work and it paid off in the end," Johnson said.
Echoing the sentiments of senior Guyana Jaguar batsman Shivnarine Chanderpaul, the former West Indies Under-19 skipper credited the discipline demonstrated by the Jags led to their dominance throughout the season. "I think it's discipline in all areas of the game, batting, bowling, fielding and the contributions of Veerasammy Permaul (67 wickets) and Davendra Bishoo (61 wickets) throughout the tournament with a 128 wickets between them, bowling out every single team we played against twice," Johnson said.
Chanderpaul finished as the leading run scorer with 539 while, Rajindra Chandrika (525), Narsingh Deonarine (514), Vishaul Singh (479), Chris Barnwell (471) and Johnson (465) all contributed with hundreds of runs which steered their side to the top of the table, ensuring that the Jags remained table leaders for most of the competition. Further elaborating about the team's accomplishments, Johnson said, "Those were the major contributions, we also had three batsmen over five hundred runs and four of them close to 500 runs so I think those were the main factors."
Although he did not score a century Johnson exhibited good form throughout the competition and was retained by the West Indies side ahead of the upcoming Test series against England. He declared that he was happy to be back in the Windies team and would play anywhere in the order to the benefit of his team. He noted too that despite being team leader, the victory was indeed a team effort and applauded his teammates. "It feels great it was a good team effort and the performances of the players was exceptional," he said.
Around the Web