VIENNA, (Reuters) – FIFA presidential candidate Prince Ali Bin Al Hussein of Jordan believes that world soccer's governing body is taking the wrong approach to development of the sport, leaving many national associations without basics such as kit and pitches.
He said FIFA was "irresponsible" to decide the allocation of slots for the 2018 World Cup on the day after the presidential election in May and that spending $27 million on a film about itself was an example of poor management.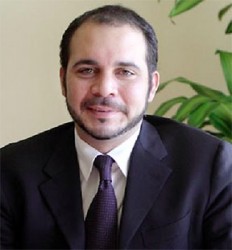 FIFA said in its financial report published on Friday that it reinvested $1.052 billion of its revenue from 2011-14 in the development of football around the world, constituting 20 percent of its expenditure over the period.
But Prince Ali, who along with Dutch FA president Michael van Praag and former Portugal forward Luis Figo is challenging Sepp Blatter for the FIFA presidency in May, said the money was not being well spent.
"I cannot imagine that an organisation with the wealth that it (FIFA) has, and the budget that it has, does not yet guarantee that every single national association has the basics of having pitches, kits and so on," Prince Ali told a round table of reporters.
"It's not that difficult. In Asia, many associations have to ask for support for FIFA, it's almost like a drip feed system," added Prince Ali, who is the Jordan FA president and a FIFA executive committee member.
"Development is crucial but I think the approach to it is incorrect. It is a reality that many associations around the world (do not have the basics), and I've seen it with my own eyes.
"Projects have to be implemented, not for the sake of projects but for the sake of improvement," he added. "There is a big lack of input in FIFA regarding local needs." He said FIFA's development policy was about image more than reality.
"You look at the Caribbean, they have real physical challenges, again in Asia, the same in Africa," Prince Ali said, adding that the money spent on the film "United Passions", whose cast includes Tim Roth and Gerard Depardieu, could have been better used on development.
"It was not run by the executive committee…Blatter did come and apologise for not doing that. But that's an issue of mismanagement…and that's just a simple example," he said.
"In certain parts of the world, what was spent on the movie….that's a huge amount of money."
Prince Ali was also critical of last week's decision to allocate slots at the 2018 World Cup at an executive committee meeting which will take place on May 30, one day after the presidential election.
"I am very, very worried that candidates can use that for political moving without having a real, proper, healthy, studied debate; honestly, we cannot afford to make mistakes that have happened in the past," he said.
Around the Web