An autographed Golden Jaguars official playing jersey will be mounted on the 704 Sports Bar Wall of Fame.
According to a press release, the move by the sports bar is to help whip up support for the team ahead of tomorrow's Friendly international engagement against Grenada at the Providence National Stadium.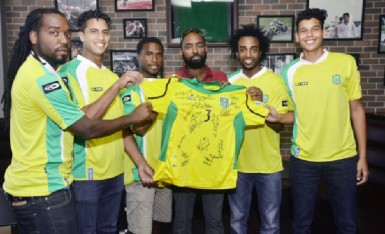 On Thursday some Golden Jaguars players and representatives of the Guyana Football Federation (GFF) Normalisation Committee presented the autographed Golden Jaguars official playing jersey to the Sports Bar.
According to the release, the 704 Sports Bar has several replica jerseys and memorabilia from various sport disciplines, autographed by its biggest athletes including Michael Jordon, Larry Bird, 'Magic' Johnson, LeBron James, Dwayne Wade and Manny Pacquiao.
Project Manager Dustani Barrow said it was an honour to have the team's jersey mounted in the building adding that the bar intends to support the Golden Jaguars in the lead up to the 2018 World Cup Qualifiers.
Around the Web