Two of Guyana's young, prized track phenoms wanted to fully match their top-billing labels coming into the New Balance Indoor Scholastic Nationals last weekend in New York, USA.
In the end, they were both shortchanged.
Though tagged as favorites to filch individual glory at the meet for the best high school athletes in all of the USA, sprinter Brenessa Thompson and miler Cassey George were dented at different ends of track's distress spectrum.
A hamstring strain pushed Thompson off the start list for the short-sprint final, while George was pulled to breathing snags following her multi-lap runs.  It was a spurt of déjà vu for both lasses who had similar hiccups at other meets last year.
Once the undercover season's fastest, Thompson's segue in the Girl's 60m started on the Saturday as she topped the 45-person heats with a 7.42s blast; going better than the eventual champion, Teshana Daniels (7.45s) of Florida's First Academy TC. That mark was a new record for her heralded Medgar Evers Track Club (METC).
In Sunday's semis, Thompson's quest was to merely qualify for the final. That, she did, but at a price.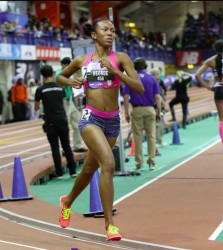 This time, the METC star was second fastest (7.45s), but had evidently grimaced before the tape and then limped, after her semi.  Subsequently, her coach Shaun Dietz pulled her from the championship race, catering to her health due to her looming runs at the 2015 Carifta Games.
"I felt like my heart wanted to leave my chest, but I felt that if something's wrong, it needs correcting. So, it was the best decision I made for her because I know she's already known at the high school level and she'd still have top colleges lining up for scholarships. The main thing is her health for outdoors and she got work to do for her country.
Effectively, Thompson was absent from her team's 4x200m relay championship, though she led their qualification as the #2 quartet, a day earlier.  Amazingly, the title run was a doppelganger of the semis for the top four positions. The tussle for bragging rights received a standing ovation from the Armory Track crowd as the four teams were separated by a mere 1.5 seconds.
Crestfallen without a championship title, the METC coach managed to applaud the Thompson-less foursome on their fight for top honors. He, too, could have used some of the soothing praise Thompson gave her stablemates, and with apparent gender substitution to Wiz Khalifa's "Hol' up, hol' up, we dem (girlz)".
"Man I was down after Bre couldn't make the finals. I remembered what happened to me in high school at 'inter zones'.  I know she would have won the race with a sub 7.20s," lamented a cheery-eyed Brenon Thompson, dad of the METC senior who wanted to add more glaze to a polished high school career with a win at her last indoor meet.
For George, who along with her coach Moses Pantlitz, was on a maiden voyage to the Big Apple, the baptism in the thawing 'ice box' was too much of a bite for the newly-cast double category Guyana Sportswoman of the Year.
During her compatriot's runs, George was understandably skittish, shifting in her seat as she watched from the stands with either keen or nervy calmness awaiting her turn in the storm of athletic strides. She was bounded by a slew of familiar names in Guyanese track, including Pantlitz, the senior Thompson, Bryan Inniss, Andy Medas, Rhonda Alleyne, and relatives Linda and Lennox Holder – New York and Linden-based entrepreneurs.
In an uncanny foray into two mid-distance events less than two hours apart, the lithe Lindener could do no better than sixth in a 10-runner field in section 1 of 3 in the girls 800m to register her christening indoor mark of 2:16.69s.
She gained an overall finish of 21st out of 26 runners for the event in which all but one runner were her senior. Then, while chasing the flock in her girls mile race, George (5:11.47s) cranked a final-lap burst around the 200m oval in obvious zeal to redeem herself from the debut run. In the process, she overtook a runner to end seventh, giving her 23rd of 27 overall in the similarly three-sectioned event.
As she stepped off the track following that eight-lap barnburner in the still, dry air of the indoor arena, George began to copiously hyperventilate. "I was panting for breath because my lungs felt like they been burning up and hurting," recalled the Wismar, Linden TC athlete.
She spent time with the medical team to recuperate prior to being released by Dr. Amadeus Morgan who detected inadequate hydration for the indoors first-timer. "Look you just did a tough, long race and you're not sweating. It's a tell tale sign. The symptoms you had are usually a result of being dehydrated," the physician noted, leaving George with kindly advice to "take (as much) water 'til it sends you to the bathroom (toilet)".
"Coming from the Caribbean this is new to me and I was trying to push myself more harder to do well," the multiple Carifta Games gold medalist admitted of her first-time showing, which got her an array of kudos. Among those lauding her were Chief Operating Officer of the National; Scholastic Athletics Foundation, Joy Kamani and sports performance specialist, Sparky Chapel who had just finished running the NYC half-marathon.
And, coach Pantlitz, too, 'fessed up on the learning experience for himself and his prodigious runner, saying, "I think her performances were reasonable this first time. You know, we learn from it and thankful for the experience and the exposure because conditions and conditioning are very important for these athletes to know about".
George and Thompson were invited for the US meet by the Guyana Quest outfit which is administered by Dietz and his wife Nicola Martial, a former Guyanese Olympian.
In a few days, Thompson and George will stride again against the Caribbean's finest at the Carifta Games in St Kitts, and there they hope to revivify their top billing and not be shortchanged.
Around the Web