An international dominoes competition is to be played here over the Easter Weekend.
This was disclosed by president of the Georgetown Dominoes Association Faye Joseph at Wednesday's launch, Gaulding Place, South Ruimveldt.
The tournament, which runs from April 4-6, will see teams from Guyana, Barbados, USA, Canada, Antigua & Barbuda and St. Lucia competing.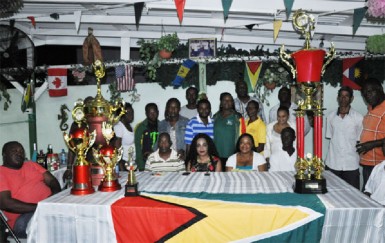 Other countries invited but who have not yet responded are Grenada, Montserrat, St. Eustatius, Dominica, St. Kitts & Nevis, Anguilla and Puerto Rico.
The tournament will be divided into three zones and the entrance fee per team is $US220 or $44,000 with the winning team receiving US$5000, runner-up US$2500, 3rd place US$1500 and 4th place US$1000 along with trophies.
There will also be a trophy for the Most Valuable Player.
The tournament will have a different format as points and not games will determine the teams that advance.
Registration will close on Tuesday.
Around the Web