Despite securing their first home win in over three years on March 22nd against St. Lucia, history will relegate the Golden Jaguars to underdogs against Grenada today when the two sides faceoff at the National Stadium in Providence.
Ranked 158th on the FIFA chart, the 'Spice Boys' will start the 16th matchup between the Caribbean Football Union (CFU) rivals  as the favourite due to their historical edge over the 166th ranked Golden Jaguars.
In terms of the head-to-head matchups, Grenada possess a slight edge after claiming eight wins from the previous 15 meetings. The most recent showdown between the two sides resulted in a 2-1 win for Grenada on November 16th 2012.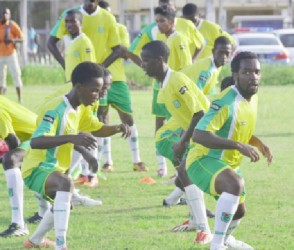 Guyana, on the other hand, has won five times with two of their matchups taking the pathway stalemates.
An in-depth analysis of their history would highlight Guyana's earlier dominance and Grenada's recent supremacy. The Golden Jaguars in their first outings against the Spice Island, registered three wins and a draw between the period 1980-1987.
Their first matchup on May 30th 1980 resulted in a 5-2 win for Guyana during the FIFA World Cup qualifiers while the second fixture witnessed a 3-2 win for the Guyanese on the 13th April 1980.
A 1-1 draw would highlight their April 9th 1987 meeting while Guyana would romp to a 3-1 win the 9th June 1987. However, since 1996, the Grenadians possess a 8-2 head-to-head record against Guyana beginning with a 2-1 win on May 29th 1996 in a FIFA World Cup Qualifier.
Grenada would then register their biggest ever win against the Guyanese in the same year compliments of a 6-0 win on April 7th. A 5-1 win for Grenada would then highlight 1997 on April 4th while a 2-1 victory on April 17th 1998 would be acquired during the Shell Caribbean Cup.
Another 5-0 victory on February 28th 2004 and March 14th 2004 during the FIFA World Cup Qualifying campaign extended the Grenadians dominance.
After a string of six straight defeats, Guyana would claim their first win in 19 years with a 1-0 victory on September 10th 2006. Further examination would highlight Guyana's improved showing against their rival as they possess 1-2 win/loss record.
A 2-1 win on February 22nd 2012 for the locals falls between the two losses by an identical score on January 20th 2008 and November 16th 2012, which happens to be their last encounter.
While the acquisition of foreign players inclusive of English born and based duo Matthew Briggs and Neil Danns will strengthen the Golden Jaguars at the rearguard and midfield positions, Grenada also have a significant edge with regards to the goals scored during the contests.
The visitors have outscored the Guyanese 33-21 overall. However, further examination indicate that they have outscored Guyana by a 13-6 score in their last six fixtures.
The finalized Golden Jaguars squad reads Emery Welshman, Jamal Smith, Brandon Beresford, Akel Clarke, Chris Nurse, Dwain Jacobs, Clive Nobrega, Les Charles Critchlow, Joshua Brown, Eon Alleyne, Dwayne Lawrence, Colin Nelson, Anthony Whyte, Sheldon Holder, Daniel Wilson, Daniel Whyte, Chris Camacho, Manasseh Primo, Jermin Junior, Matthew Briggs, Neil Danns, Pernell Schultz, Derrick Carter, Konata Manning, Vurlon Mills and Solomon Austin.
Meanwhile the Grenadians have finalised their roster which reads Shamari Mark, Michael Mark, Shane Rennie, Jake Rennie, Shannon Phillip, Aswad Phillip, Rohan George, Quasim Theodore, Irvin Smith, Kareem Coutain, Cassim Langaigne, Jason Belfon, Frederico Lessey, Moron Phillip, Quinton Rennie, Jamal Charles, Kithson Bain and Terry James.
In terms of the technical staff, Anthony Modeste is the Head-Coach while Andrew Munroe will be his assistant. Lester Smith is the Technical Director whilst Thomas Alexis is the Goalkeeper Coach.
Peter James will serve in the capacity of Manager while Augustine Jones and Jerry Alexis will serve in the roles of Equipment Manager and Trainer respectively. The last competitive meeting between the two sides resulted in a 2-1 for Grenada on November 16th 2012.
Around the Web