The Guyana Telephone and Telegraph Company (GT&T) is the latest sponsor to come board for the inaugural Guyana Beverage Company Incorporated Busta Soft Shoe Football tourney donating $300,000 yesterday at a simple presentation ceremony at their Hadfield Street locale.
Senior Marketing Officer of GT&T, Anjanie Hackett, said the company was extremely pleased to be partnering with the Petra Organization who they have worked with previously. She noted that the Petra Organization has always demonstrated a professional approach and, as such, GT&T was very confident in the organisation's abilities. Hackett added that GT&T was always a supporter of sports, while wishing all the competing teams best of luck in the tourney.
Petra Co-Director and tournament coordinator Troy Mendonca said the simple presentation ceremony spoke volumes of the relationship between the two organizations.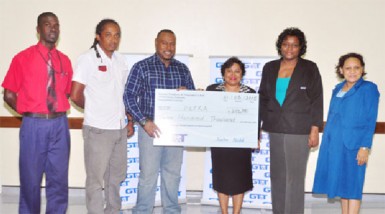 He noted that due to their long standing relationship, the Petra Organization always invites the telephone company whenever they commence a project.
Mendonca added that his organization could not find words to express their gratitude while thanking GT&T for continuing their partnership with the organization.
The tourney, which will be contested in an initial group format, will feature 24 teams divided into six groups of four. Upon the end of the group stage, the top two finishers from each group alongside the best four third place finishers will advance to the knockout round.
The teams which can field a roster of 10 individuals, will be allowed only five players on the field at any given time. Four of the five individuals will be outfield players, while the fifth player will serve in the position of goalkeeper.
The length of the playing area will be 50×35 feet while size of the goal will be 12×6 feet. All players must wear either turf shoes or sneakers as no football cleats will be allowed.
Participating in the event are North East La Penitence, North Ruimveldt, West Back Road, Sophia, Queen Street Tigerbay, Holmes Street Tigerbay, Albouystown, Tucville, Globe Yard, Leopold Street, Cross Street, Kitty, Bent Street, Durban Street, Sparta Boss, Charlestown, Broad Street, California Square, Back Circle, Brazilian Team, Stevedore Housing Scheme, Festival City, Alexander Village and West Front Road-Gold is Money.
Winners of the event will receive $600,000 and the championship trophy while the second placed unit will pocket $300,000 and the runners-up title. The third and fourth positioned teams will walk away with $200,000 and $100,000 respectively.
Upon completing of the group format, each team will be awarded financially due to their corresponding position. Winner of the group will be awarded $25,000 while the second, third and fourth placed finishers will walk away with $15,000, $10,000 and $5,000 respectively.
The venues for the event include the Georgetown Football Club (GFC) ground, the Tucville Community ground and the Ministry of Education ground.
Around the Web