President of the Georgetown Cricket Association (GCA) Roger Harper, says he expects to see greater significance in every game of the upcoming GCA/ Noble House Seafoods second division two-day competition.
Speaking at the tournament's launch yesterday at the Malteenoes Sports Club (MSC) pavilion, Harper said he expects, with the four zones implementation, every game will have greater significance; meaning there will be better application by individuals and teams.
The tournament will be played under a new format, where 16 teams will compete in four zones instead of two, as was previously done. According to the former West Indies player, the GCA opted for the new set up to ensure the competition is completed within a specific time frame.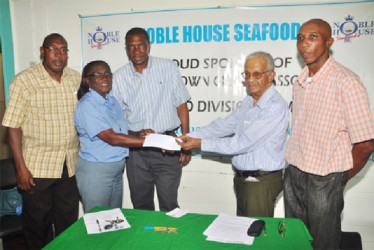 Competition is scheduled to get underway on April 11th and 12th with eight games, two matches per zone. In zone 'A' defending champions Demerara Cricket Club (DCC) will play against arch rival MSC while Gandhi Youth Organization (GYO) will tackle Diplomats, to round off zone 'A'. Zone 'B' will see last season's runners-up Everest tackling Guyana National Industrial Corporation (GNIC) and Third Class taking on Ace Warriors. Zone C opening encounters will feature Police against Transport Sports Club (TSC) and Guyana Defence Force versus Saints Stanislaus. The final group, zone 'D', University of Guyana (UG) will take on Georgetown Cricket Club (GCC) and Muslim Youth Organisation come up against Sophia.
The top two teams in each zone of the competition will advance to the quarter-finals. The winner of Zone A will play the runner-up of zone D (A1vsD2), D1 will take on A2 and B1 will clash with C2 while C1 tackles B2. In the semifinals, the winner of quarter final 1 will play winner of quarter final 4 in the first semifinal and the winner of quarter final 2 will meet with the winner of quarter final 3 in the second semifinal.
The playing time for each day will be between 11:00a.m and 5:30 p.m.
Around the Web