(Trinidad Guardian) Sports Minister Brent Sancho and Azim Bassarath, president of the T&T Cricket Board on Wednesday signed a million-dollar deal that will see 191 clubs in various categories access critical assistance from the state.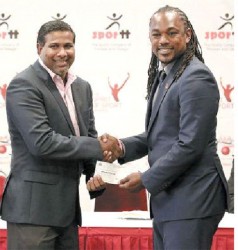 The agreement was signed at a media conference held at the VIP Lounge at the Hasely Crawford Stadium in Woodbrook, where Sancho announced premier one clubs would each receive TT$25,000, while premier two clubs would be entitled to TT$13,000 each.
The sum of TT$10,000 has been allocated to clubs in the championship division, while, clubs from Tobago, as well as, the zones were presented with grants valued at TT$2,500 each.
Sancho praised Bassarath for his quality approach to the discussions that led to rebuilding the relationship between the board and the ministry.
The TTCB official said letters requesting assistance for his membership were sent to the ministry twice before. Those correspondences were not acknowledged.
This time around, he said, letters issued on February 9 this year, did not go unattended as a direct result of the new minister's philosophy.
Sancho said: "I want to ask Mr Bassarath and his executive to give a serious thought to making your top league a semi-professional league, so that more young people will see sport as a viable career option and that they do not have to wait on the West Indies cricket team to present such an opportunity. A semi-professional league will also open the door to other top cricketers choosing T&T as a possible place of work, while helping in developing the game in T&T. Because of the strength of the club system in cricket, I told Mr Bassarath that we should work together to ensure the survival of club life and club competition in T&T."
He added, "The Ministry of Sport in conjunction with the TTCB have decided to allocate $1 million to clubs in T&T to help with their on-going work in the key areas of administration and development. No club is being left out and after some hard bargaining by your president, we have arrived at the following breakdown. I fully understand the cost of the game is way beyond today's grant. I assure you that this is a start and that my ministry will continue to aggressively find ways to ensure clubs survive and even thrive in T&T."
Sancho underscored how cricket played a key role in the destiny of so many of this country's heroes and said it would be a serious breach not to pay attention to the sport.
On taking up office a month ago, he said, cricket was a top priority.
"While the sport has been experiencing serious challenges across the region, T&T has been a shining light. Our Red Force is the envy of the world. Kieron Pollard, the Bravo Brothers (Dwayne and Darren), Sunil Narine, Shannon Gabriel, Lendl Simmons, Samuel Badree, Ravi Rampaul, Denesh Ramdin, are just a few of the names to have graduated from the programmes of the TTCB and the club that are its members and indeed the communities that nurture those clubs. Thanks to the TTCB and you the clubs, these young men are now making sport a very good livelihood," he said.
In a direct response, Bassarath said, "Our clubs, Mr Minister, continue to unearth, nurture and develop talent to represent our country and our region. Yes, all our stars of today are home grown. They represent clubs. They represent communities. They have all passed through our youth development programmes. As a board, we recognise the highly important role that our local clubs fill in the making of a cricketer and even in the lean years, we rewarded their input in a small, but tangible way."
He added, "Today, your ministry has joined us in recognising our clubs and we thank you and your staff at the ministry, who all, we are sure worked to make this possible. To the clubs who are the recipients: a word of advice and caution. We at the TTCB are here to facilitate growth and improvement of our sport. We are custodians of the game on your behalf. Let this contribution by the Ministry of Sport enhance your club, your community and the game of cricket. Do not spend, but invest for investment brings returns."
Around the Web