The highly anticipated Guyana Cup Fever will run off today at the famous Port Mourant Turf Club.
With top class racing, music and family fun, the annual Easter Sunday event which has been a staple over the years is definitely not to be missed.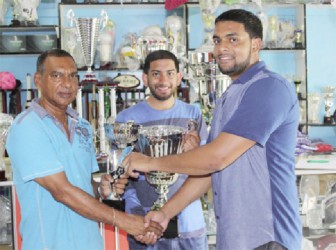 Today's seven-race card will display the best horses, jockeys and trainers in the industry.  A day at the Easter Meet is also a great opportunity to catch up with friends and entertain guests in excellent facilities with a fantastic atmosphere.
With the Jumbo Jet conglomerate holding the reins as the official sponsor, this lucrative race meet with in excess of $10M up for grabs will surely be a hit.
The highlight of the day will be the feature A and lower event, for a first prize of an appetizing $1.2M and trophy over nine furlongs (1800M).
With entries such as Guyana's premier trotter, Score's Even along with CP Got Even, stable mate, Curfew Tower, Red and Lovely, Just Call Me Boss, Run Na Na Run and Jack In My Style ,turfites will be in for a treat.
The newly imported Diplomatic Cat will also look to start on a winning note on local soil.
For today's co-feature (D3 and Lower 1600m), Tiz a Holiday, Swing Easy, Just Call Me Boss, Unsettled, Big Man Boss and others will do battle for the $800,000 winnings.
Other events carded are the three-year old Guyana and West Indies bred horses for a combined purse of $940,000 over 1500M, the G3 and lower (1200M), the F1 and lower (1200M), the three year old Guyana bred and 'I' Class  (1200M) and the J2 and lower (1200M).
The track is said to be in very good condition and turfites are expected to experience an entertaining day of racing.
A number of incentives including free kites will be given away.
Free programmes will be made available to patrons while Banks DIH Limited will be having on the spot promotions.
Music will be provided by Slingers Entertainment during and after the event.
The fixture will be held under the rules of the Guyana Horse Racing Authority.Action starts at 12:30hrs. See you there.
Around the Web