The Guyana national 15s men's rugby squad has stepped up preparations as they prepare for their upcoming clash against Trinidad and Tobago April 11th in the NACRA Zone Qualifiers in Trinidad.
Guyana are the defending champions and, according to a press release from the Guyana Rugby Football Union (GRFU) will be going all out against Trinidad and Tobago.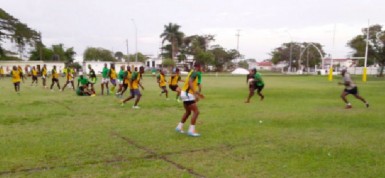 The national squad have been training every day at the National park ground .With just a week for the game the national squad will hold its final practice match Saturday at the National Park from 4pm following which the final squad would be selected for the Trinidad game.
Also returning to the squad are some of the core players who just returned from the HBS7 in Hong Kong.
Guyana demolished Barbados 48-22 in their first game of the NACRA south zone championships at the National Park while Trinidad and Tobago hammered Barbados 44-7 at the Garrison Savannahs in Barbados.
Guyana will face Trinidad in Trinidad and Tobago at the Fatima College Ground with the winner going on to play the winner of the North Zone to determine who will be the NACRA 2015 champions.
Around the Web