The Lusignan Golf Course (LGC) will come alive today when the fourth edition of Sanjay's Jewellery Golf Tournament gets cracking.
Local golfers are set to tee-off at 9:00 a.m. in one of the most exhilarating and competitive event held annually. However, unlike the last tournament which was played on the Flight format, this year's competition will use the simple Medal-Play system.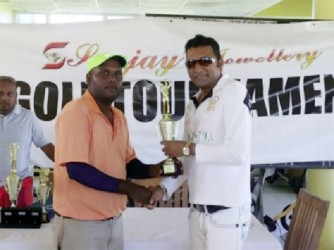 Top participants will receive awards for first to third best net, the best gross and nearest to the pin (NTP). At the previous tournament, three souvenir golden Golf Clubs were granted to first to third place best net winners, compliment of Sanjay's Jewellery owner Sanjay Persaud. This year he also indicated that he hopes to do even better for his next sponsored tournament (which is due today).
Club President David Mohamad, said the LGC is appreciative of Sanjay's Jewellery support to the club and the golf fraternity locally. He also informed about the LGC ground, which is in great shape, and golfers will find the outfield well cut. He expects that many of the winners from October's tournament will again compete this year.
Mahendra Bhagwandin (1st Best Net) is the title holder and will participate to defend his title. David Mohamad (2nd Best Net), Rishi Sukhram, Deosarran Sookram, Kevin Budram, Fazil Haniff, Christine Sukhram, Brian Hackett and Kalyan Tiwari (3rd Best Net and NTP), also played well at last year's tournament.
Around the Web