Team Evolution defied the odds to finish first and second in yesterday's 50-mile Powerade road race at West Demerara. 
The club's new recruit Raul Leal, pedaled in first in the fourth annual Banks DIH Limited sponsored event while the team's most successful rider, Orville Hinds cruised in second, a half a bike length behind in the race which rolled off at Wales proceeded to Bushy Park and ended at Schoonord. 
Hinds (last year's winner) and Leal were so dominant that they carted off six of the eight sprint prizes, snaring three apiece.
In his first victory of the season, the former juvenile prodigy stopped the clock for the breezy event in one hour, 55 minutes and 44 seconds, a minute and 11 seconds faster than last year's winning time.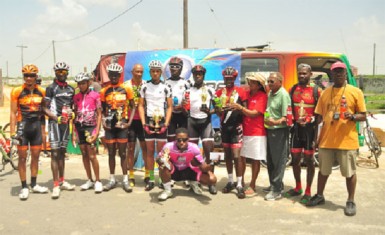 Junior star rider from Berbice, Andrew Hicks broke away from the peloton to finish third some two minutes after while Paul DeNobrega out sprinted Team Evolution's Akeem Wilkinson to take fourth. Wilkinson was fifth while veteran rider Ian Jackson took the final paid position.
Yesterday's race rolled off at a fast clip with the 34 starters jostling for the lead. 
On the upward journey, there were several mini breaks but the attackers were quickly wheeled in by the peloton.  
Leal and Hinds however, changed gears and proceeded on a two-man break at the turn back point.
That would prove the undoing of the remainder of the field as the two strong cyclists rode in tandem to hold off the peloton throughout the remainder of the trek.
When the leaders were in sight of the finish line, many spectators anticipated a sprint finish, but the two Evolution wheelsmen were just contented on finishing one-two, easy as a Sunday morning.
At the post race presentation, brief remarks were made by organizer of the event, Hassan Mohamed and representatives of Banks DIH Limited. The winners and runners up were also presented with Powerade beverages and trophies. (Emmerson Campbell)
Quick Results 
 Seniors 
Raul Leal
Orville Hinds
Andrew Hicks 
Paul DeNobrega
Akeem Wilkinson
Ian Jackson
Juniors 
Andrew Hicks 
Alonzo Ambrose 
Jaleel Jackson 
Veterans 
Junior Niles
Jude Bentley 
Colis Williams 
Mountain Bikers
Keon Thomas
Deeraj Garbarran 
Richard Charles
Around the Web