The Black Cobra Karate Club of Parfaite Harmonie successfully competed in the Guyana Classic of Classic martial arts tourney at the Cliff Anderson Sports Hall on Sunday earning three trophies and five medals in the process. 
Of the nine competing students from the institution, Alliyah Ramnarine, Shiloh Sydney and Joshua Sooklall claimed first place positions in their respective divisions. Ramnarine claimed the top spot in the traditional kata form while Sooklall was the standout performer in the 8-10 age group traditional kata category. 
On the other hand, Shiloh finished in the first position in the 10-12 age group kumite category.
Zafar Ramnarine finished second in the traditional kata form whilst Mark Ramotar secured the third spot in the same section.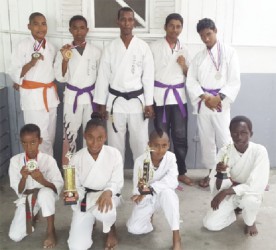 In the team kata section, the combination of Daniel Chandler, Philip Jaikissoon and Christopher Mahadeo finished in fourth position. 
Master Lloyd Ramnarine said he is content with what the small group has achieved while noting they will be preparing for the next tourney on May 31st. 
According to Master Ramnarine, the association will be having its first inter club tourney in June and that examinations will also be staged in the same month, followed closely by competitions during the same period. 
Around the Web