Veteran golfer Deosarran 'Double-Wrist' Sookram on Sunday outplayed a field of top local golfers to be crowned the champion of the Sanjay Jewelry golf tournament which was held at the Lusignan Golf Course.
Sookram, who placed second in the 0-9 handicap category in last year's Sanjay's Jewellery Classic, emerged as clear winner of the tournament. Kalyan Tiwari, who also finished among the top three at the previous tournament, came in second. Rabindindranath 'Pandit Ravi' Persaud closed out the top three finishers.
Sanjay Persaud, CEO of Sanjay's Jewellery expressed his continued willingness to support golf in Guyana.
At the end of the day's play, the winners and their handicaps and net scores were as follows: first Best Net, as well as Best Gross, Deosarran – 6/64; second – Kalyan 19/65; third Rabindindranath 'Pandit Ravi' Persaud – 25/66. Nearest to The Pin was won by B Harry. In the picture, from L to R: Presidend D. Mohamad, B. Harry, K. Tiwari, winner Deosarran Sookram, Mr Sanjay's brother, Pandit R. Persaud and Mr Sanjay Persaud.
Club President David Mohamad, also expressed the Lusignan Golf Club's gratitud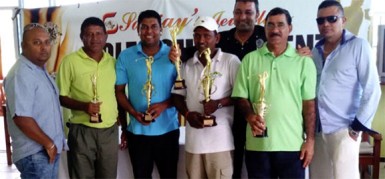 e for the continued excellent support of Sanjay's Jewellery.
Around the Web