LONDON, (Reuters) – England's former Ashes-winning captain Michael Vaughan has talked up his credentials of a role at the England and Wales cricket board following the departure of managing director Paul Downton.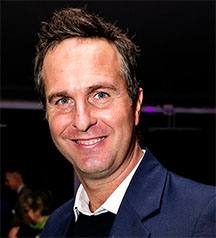 Former England wicketkeeper Downton left his position on Wednesday after just over a year in the job as part of an ECB restructuring process that will create a new leadership position focused on performance.
"For the first time since retiring six years ago I am open to a conversation with the ECB," Vaughan said in the Telegraph.
"I have a vision for the game and… will be more than willing to talk to the ECB to see what exactly the role is and how much influence it will wield over the future structure of our game.
"The brief has to be wider and more powerful than Paul's to have any real impact on England.
"In (incoming ECB chairman) Colin Graves and Tom Harrison (ECB chief executive) we have a chance to change English cricket and admit our problems.
"Let us finally do it. Stop looking at what your own county needs and ask what is best for English cricket moving forward."
England have been on a downward spiral since the disastrous 5-0 Ashes defeat against Australia in 2014.
Controversial batsman Kevin Pietersen was sacked by Downton before Peter Moores was reappointed as coach in April last year but he is under pressure after England failed to get through the group stage at this year's World Cup.
England begin a three-match test series against West Indies on Monday before home series against New Zealand and Australia, and Vaughan believes their poor showings will continue unless fundamental changes are made to English cricket.
"It needs a wider acceptance that in all forms of the game we have to be more attacking, not gung ho, but play smart cricket," Vaughan said.
"For that to happen we have to give players the chance to think for themselves. It means developing younger cricketers capable of standing on their own two feet.
"Let's stop molly coddling them. People will say that is happening already but I don't see it.
"We should be blooding players aged 21-22 but most of our debutants are in the 25-29 age bracket."
Around the Web