Essequibian Keanu Harry's nine-wicket haul and Demerara skipper Travis Persaud's 50 highlighted the final day of the Guyana Cricket Board (GCB) U19 Inter-County three-day tournament which ended in a draw yesterday.
The first round of the tournament which concluded at the Everest Cricket Ground witnessed a few good performances from the two sides who played good cricket, sadly a winner could not emerge from the sterling all-round performances.
Persaud led the way with a mature 51 from 121 balls with five fours while Akshaya Persaud stroked an unbeaten 32 as Demerara were bowled out for 180, ending with a lead of 215 after resuming with a lead of 35.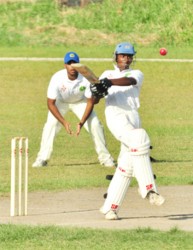 Bowling for Essequibo, the off-spinner Harry, who bagged the Man-of-the-match award ended with 9-123 after bagging 2-57 in the second innings which he complemented with his first innings haul of 7-66.
Looknauth Chinkoo (3-27), Akene Adams (2-37) along with hostile spells from pacers Leyland Cadogan (2-18) and Jewmal Hartman (1-11), placed Demerara under some severe pressure.
Essequibo were 71 for 3 from 18 overs with skipper Travis Drakes (*13) and David Williams (*21) at the stumps when the match was called off by both sides accepting that a result could not be met.
During their second innings, Essequibo lost opener Steven Latchana for two runs after Sherfane Rutherford castled his stumps, but Nathan Persaud (33) with seven fours and Williams provided a bit of entertainment as they mauled the likes of Rutherford and company with a flurry of authoritative shots.
A few more lusty blows by Persaud who took a liking to Rutherford  saw the Essequibo 50 coming up inside 12 overs but Demerara swung things in their favor when Daniel Basdeo had him caught at mid-wicket.
Parmesh Parsotam (00) was then undone by some good bowling from Akshay Persaud as Drakes and Williams were left stranded when the match was called at 16:47hrs.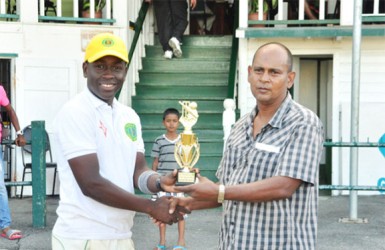 Earlier, Demerara started off their second innings on the wrong foot, despite their lead of 35 after the Cinderella County pacers operated with aggression, venom and were given moral support by their teammates who were very vocal between overs.
Opener Ronaldo Renee (02) was caught by Adams who was patrolling the backward-square region off the bowling of Cadogan, while Hartman produced a beauty which uprooted the middle stump of Rutherford (00), leaving the National youth batsman stunned for approximately three minutes as he walked back to the dugout in disbelief.
The pacers continued their aggressive approach operating from both ends as the Demerara batsmen sought to negate the swing and bounce extracted from a good bowling surface, under a bit of forecast weather.
Cadogan, running in from the Commentators Box End, missed his bowling step but regrouped immediately to deliver a fast, full-length delivery to trap opener Tevin Imlach for 16.
Inroads were again made by Essequibo when Malcom Hubbard (18) was out caught off the bowling of Chinkoo as the lunch interval approached, with the score 54-4 with Albert on 1 and Persaud on 15.
When play resumed for the afternoon session Demerara who were four wickets down with a lead of 89 were dealt another blow when Vivian Albert (10) was forced to retire hurt, joining the likes of Persaud who was regulated to the same fate after being hit with the ball.
Persaud, after much patience and positivity recorded his 50 from 117 balls with five boundaries as his team extended their lead to 140 before Adams had the skipper out LBW.
Ershad Ali (24) became another victim of the in-form spinner Harry who had him caught by the wicket-keeper which he followed up with another strike to remove Albert who returned to the middle following his retirement, LBW.
A double strike from Chinkoo accounted for the wickets of Basdeo for 10 and Tariq Dharamlall (00) as Demerara lost their ninth wicket for 231 runs. After a painstaking period and a bit of frustration from the last pair, Carlton Jacques (11) was caught and bowled by Adams.
Demerara made 261 in their first innings after Imlach and Hubbard struck fifties and Harry wrecked the batting line with his seven wickets.
Essequibo in their first innings were rolled over for 226 despite Parsotam 59 as Demerara's bowlers led by Rutherford (3-45) and two wickets apiece from Hubbard and Akshaya Persaud.
The next round bowls off on Sunday.
Around the Web