Floodlights and Floodlights All Stars recorded victories against Corrriverton Market Vendors and Crabwood Creek/Scottsburg respectively while Trophy Stall Angels lost to Karibee Girls last Sunday at the Crabwood Creek Sports Complex.
In the opening encounter, Floodlights scored 196-5 from the allotted 20 overs.
Richard Persaud, 56, Greg De Fraca, 40, Imtiaz Mohamed 41 not out and   Ricky Deonarain 22 not out were the principal scorers as Ravi Lutchman and Fabie Dan took two wickets each.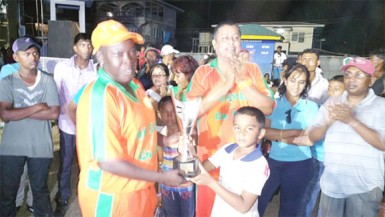 Corriverton Market Vendors made a strong reply scoring over 10 runs per over in the first 10 overs.
However, the innings was pegged back through good fielding, catching and bowling by the 2014 Guyana Softball Cup Masters champions and Corriverton Market Vendors were eventually all out for 171 in 19.4 overs.
Vishal top scored with 51 while Buie Ramo, 26 and Ravi Lutchman, 25, were the main contributors.
There were two wickets each for Mike Singh, Wayne Jones, Richard Kellawan, Ramchand Ragbeer and Man of The Match Imtiaz Mohamed.
In the second match, CC/Scottsburg, batting first, made 172 for 9 from their allotted 15 overs with skipper Popo Chalitar top scoring with 61.
He received fine support from Junior Garnett who made 42.
Imtiaz Mohammed captured three wickets while Richard Latiff and Desmond Parches took two wickets each.
Floodlights All Stars in reply blazed to the total winning in the 13th over for the loss of only two wickets.
Man of the Match, Lennox Marks, top scored with an unbeaten innings of 77 while Richard Latiff made 44.
In the female game Karibee Girls were in early trouble losing some key wickets but eventually reached 153 for 8 from their allotted 15 overs. Player of the match Katana Mentore made a brilliant 82 not out.
In reply, Trophy Stall Angels lost skipper June Ogle early and eventually reached 147 for 9 at the end of the 15th over.
Spectators were given a treat by the Floodlights teams. They won 22 prizes which included tablets, DVD players, groceries, pharmaceutical hampers, T-Shirts and Karibee Rice.
There were also 50 giveaways inclusive of kites and umbrellas etc. The Crabwood Creek Baba Grant Mandir also received a donation of $200,000 from The Guyana Floodlights Softball Cricket Association.
The three matches were sponsored by Ago Gopaul and Family, Nand Persaud and Company Ltd., Ganesh Singh and Brothers Sawmilling, Survival, Trophy Stall, 4R, Mike's Pharmacy, Rohan Auto Spares, Bel Air Rubis, Motor Trend, Vishnu Super Store and Ramchand Auto Spares.
Around the Web