Guyana's 15s rugby squad arrived in Trinidad and Tobago yesterday morning for their NACRA Southern Zone final today against the hosts with intensions of continuing its regional dominance and moving one step closer to retaining the overall title.
Today's match at the Fatima College ground in Port of Spain comes with the national team on a high after going unbeaten throughout last year en route to capturing the NACRA 15s and 7s titles. The former for the seventh time in nine years and the latter the first after 43 years.
Guyana also routed Barbados 48-22 last month in their opening game of the NACRA Championships.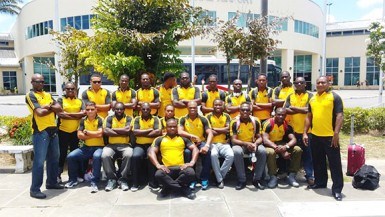 It is safe to say Guyana is a championship squad and has momentum on its side.
Trinidad however will be looking to halt that momentum despite lacking the pedigree and silverware of their more celebrated counterparts. The hosts are certainly plotting an upset of the recently indestructible 'Green Machine'. The last time the two teams met in the Twin Island republic (2013), Guyana was drubbed 20-nil. Trinidad's ruggers will be hoping to replicate a victory by which ever margin.
Following arrival at the Piarco International Airport, Guyana's Captain Ryan Gonsalves was adamant that Guyana will emerge victors.
"We are very much prepared for this game and we have a strong line up as well. There is a lot of experience with some youth in the camp and our confidence is high, I am very much confident that we will come away with a victory tomorrow."
Gonsalves added that his charges are under pressure as champions to perform "but we know how to win games and come out victorious."
Once Guyana's most successful outdoor sports team in the past decade is indeed victorious on today, they will play the winner of the Northern Zone for the overall NACRA 15s title in a home game on April 25.
Guyana's 23 man squad reads: Ryan Gonsalves Claudius Butts, Avery Corbin, Rickford Cummings, Rondell Mc Arthur, Vallon Adams, Kevin McKenzie, Theodore Henry, Richard Staglon, Jason Tyrell, Dwayne Schroeder, Peabo Hamilton, Lancelot Adonis, Leon Greaves, Jamal Angus, Jermaine Prowell, Blaise Bailey, Ronald Mayers, Randy James, Jacques Archibald, Troy Arjoon, Kevon David and Delroy Gordon.
The team is scheduled to return tomorrow with silverware. (Emmerson Campbell)
Around the Web