A six off the penultimate delivery of the game gave Malteenoes Sports Club (MSC) a four wicket win over Gandhi Youth Organisation (GYO) in a thriller yesterday at the MSC ground.
With two needed from two deliveries, former national youth player Kareem Naughton muscled experience player, Surendra Herilall who was bowling off spin, over the square leg boundary for a mighty six to seal the game for MSC.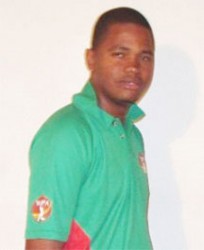 Scores in the match; GYO 1st innings 95 all out in 41.1 overs- Chris Deonarine 25 and Surendra Herilall 22 while Steven Sankar collected 5-25 and Shaquille Mosely 3-5. GYO 2nd innings-109 all out in 40.1 overs-Garfield DeRoche 56 while Sankar claimed 4-28, Delon Dalrymple 4-48 and Vishal Narayan 2-10. MSC 1st innings 169-8 declared- Ncosie Barker 40 and Joseph Cupidore 3, Trevon France 4-51. MSC 2nd innings 40-6 Kareem Naughton 13 not out, Imran Hassan12 and DeRoche 2-15.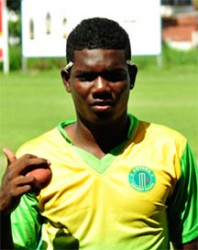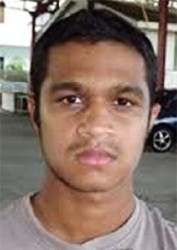 The win gave MSC a brilliant start in the Georgetown Cricket Association (GCA) Noble House Seafoods two day competition. MSC's next two games are against Demerara Cricket Club (DCC) and Diplomats.
At the DCC ground, led by Dennis Squires who made a century and a half century in the match, the hosts DCC registered a 51-run victory over minnows Diplomats. Squires made 140 to help DCC post 237-3 declared in the first innings, followed by 85 in the second innings as DCC reached 172-9 declared. He was supported by national under-15 selectee Sachin Singh who made 60 in the first innings.
Bowling for Diplomats, Almondo Dowman and Devon Paul collected a wicket each in the first innings while R. Mohamed spearheaded the attack in the latter innings to finish with 4-17. Diplomats recorded scores of 187 all out and 171 all out as they fell short by more than fifty runs. In their first innings Dowman made 71 as Squires returned to take 3-43 while in the second one S. Forde got 43 as Antonnel Atwell (3-60), D. George and Lyndon Lyght who claimed two wickets each, led DCC's bowling attack.
At GYO, Everest Cricket Club defeated Ace Warriors by eight runs in a very close encounter. Batting first Everest was restricted to 119 all out as Ace Warriors' J. Jeffrey (3) and C. Dick (2) led the bowling. In response Ace Warriors was restricted to a low 86 all out, giving Everest a 33 run lead. Neil McLean (4-14) and Javed Rasheed 2-27 were Everest's best bowlers.
In their second turn at the crease, Everest made a paltry 109 as Dick claimed 5-24. Set a target 142 to complete a come from behind victory, Ace Warriors was dismissed for 136 in their second innings. Roger Aron and Dick made 33 and 28 respectively while Riyad Sattaur took 5-25 and Rasheed 2-22.
The competition will move to its third week, next weekend, as action is set to continue at several venues in the city.
Comments

The Guyana government stepped in on Friday and bailed the Guyana Rugby Football Union (GRFU) out of its financial predicament allowing for the male and female rugby teams to compete at this year's Rugby America's North (RAN) 7s Championship this weekend in Mexico.

KOLKATA, (Reuters) – India's captain Virat Kohli staved off the threat of defeat before their fast bowlers ensured the hosts finished on a high in the drawn opening test against Sri Lanka in an enthralling final day at the Eden Gardens yesterday.

The 2017 edition of the Guinness 'Greatest of the Streets' George-town Championship was officially launched yesterday at the Thirst Park Sports Club.
NEW YORK, (Reuters) – A government witness in the U.S. corruption trial related to soccer's world-governing body FIFA testified yesterday about millions of dollars paid to former soccer officials in exchange for broadcasting and sponsorship rights for international tournaments, all logged in a secret spreadsheet.

Young Achievers Volleyball club was once again the dominant force on the Demerara volleyball circuit after downing their counterparts from the Vanguard Volleyball club in straight sets in the final of the Demerara Volleyball Association (DVA) Men's 'B' division playoff played at the National Gymnasium, Sunday evening.