By Cosmo Hamilton
The incisive grace of his scintillating stroke-play, his calm demeanor and assured application in the face of fearful odds against one of the better attacks in world cricket as he crafted his maiden Test and first class century – 103 not out against England last Friday in the First Test at Sir Vivian Richards (SVR) stadium in Antigua & Barbuda, suggests that all-rounder Jason Holder is blessed with a rare natural gift of the art of batsmanship.
And perhaps even more impressive was the confidence, composure, and the maturity beyond his 23 years, in only the fourth Test match of what would hopefully be a long successful career, that he showed against a top-tier test team desperate to eke out a victory and re-assert themselves in the longer format after their poor showing just weeks ago at the 2015 ICC World Cup.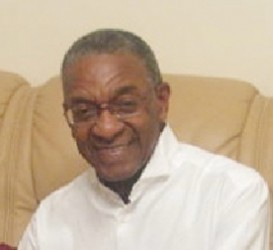 Holder's memorable innings which earned the West Indies an important draw against a comparatively formidable and favored opposition within touching distance of victory, would have gone a long way in vindicating the confidence and the conviction expressed by West Indies convenor of selectors Clive Lloyd and his panel in naming the lanky baby-faced fast bowler captain of the region's ODI team just weeks before the World Cup.
Needless to say it was a bold decision that was greeted with skepticism and vituperative criticism from many quarters including political leaders, commentators, and fans from throughout the Caribbean and beyond, smarting from the omission of the likes of Dwayne Bravo and Kieron Pollard from the World Cup squad. In general the critics did not embrace the Lloyd doctrine that in a serious attempt to elevate West Indies cricket out of the abyss, it was time to not exactly clean house but in looking to the future, to unearth new talent and provide them with the opportunity and the responsibility to perform at the highest level.
Some ad hominem attacks even diagnosed Lloyd in reaching his decisions as suffering from the dreaded alzheimers disease. But the selectors' philosophy which in effect requires some measure of patience has indeed borne fruit as evidenced by a creditable performance by the Barbadian left hander Jonathan Carter recently at the World Cup, and Jamaican Jermaine Blackwood who completed his maiden Test century against England in the first innings of the First Test in Antigua & Barbuda, and Holder's undefeated ton in the second innings. Much as the West Indies selection committee should be criticized for any bad selections, they should be commended for bringing to the fore quality young players capable of elevating West Indies cricket back to the zenith.
From his recent performance Holder would have been their well-founded prime prospect and the cornerstone of their new structure. Of the rookie Windies ODI captain, in a keen observation Lloyd said "He has a very good cricketing brain and he has the makings of a very good leader." In his first outing as captain of the West Indies team under the glaring lights of the World Cup and in the face of the unrelenting international press, he acquitted himself well with bat and ball and although a work in progress, Holder, as a leader, took his team to the quarter-finals of the highly competitive tournament. He embraced the leadership role and much of what was written about him was positive. As they say 'he is a diamond in the rough'.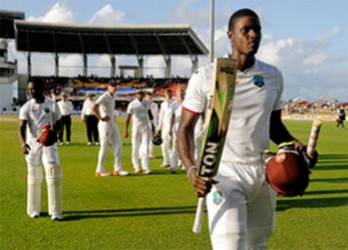 Though the decision to name Holder captain of the West Indies team shocked the cricketing universe, the idea of a young inexperienced player with no body of work as a leader being entrusted with the captaincy may be infrequent but not far-fetched. Case in point – recently retired South Africa captain Graeme Smith was named captain of his national team at the tender age of 22, just one year after his test debut. As skipper and opening batsman, he immediately became focused and pointedly prolific, scoring double centuries in his 3rd and 4th Test matches as captain against England.
Not only is Holder a player of rare quality but as evidenced by his post-match comments after his epic innings against England, he is possessed of admirable character that should endear him to his teammates and cricket fans alike. Of his brilliant knock at the SVR stadium Holder said, "I thank God for it … and I remember my grandfather who passed away a few years ago". And it is curious that he paid homage to one of the world's greatest iconic political leaders as he reflected on his century: "I am a big fan of Nelson Mandela, he said, "And the celebration was a little tribute to him. I have a picture on my phone where he just has his hand up in a sign of peace."
There is much to admire about this young Barbadian talent, perhaps the most important of which is the fact that his sheer ability appears to be a hybrid of the greatest of his countrymen… four Knights who bestrode the cricket world. Holder is blessed with the signature grace of Sir Frank Worrell, the definitive back-lift and backfoot strokeplay of Sir Clyde Walcott, the power and panache of Sir Everton Weekes, and the genuine allround skill set of Sir Garfield Sobers.
Around the Web