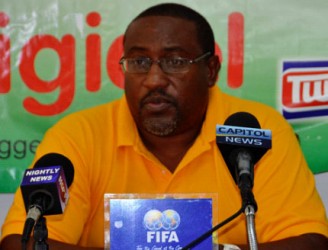 Golden Jaguars Head-Coach Jamal Shabazz said that competition for places on the senior squad has been fierce and that the 2018 FIFA World Cup Qualifier against St. Vincent and the Grenadines is a very important chapter in the nation's football aspirations.
In an invited comment at a press conference held at the Guyana Football Federation (GFF) Headquarters yesterday, Shabazz said that the upcoming fixture is a major step in Guyana's football while noting that the efforts of the all players have been good and competitive.
According to Shabazz, the team currently possesses depth in every position.
He added that the comradery has been good and that the team is a good blend of experience and youth and overseas and local players.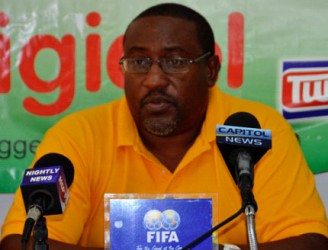 According to the Trinidadian, he has seen the upcoming opponents play twice recently and noted that they have improved tremendously over that timeframe and will pose a formidable threat to Guyana's ambitions of progressing to the next round.
Asked about the status of the U23 programme he said that team was currently at the trial stage and that practice takes place four times a week. He added that the management staff expects to shortlist the squad shortly and said that competition for positions within the setup has been good.
Shabazz declared that while the team has been short of international match practice, he believes the pool of players currently in the possession of the management staff is quite good and that the country is on the right path for development.
The Golden Jaguars will open their World Cup campaign away from home on June 10th against St. Vincent and Grenadines before returning four days later for the second leg at the National Stadium in Providence.
The overseas born and based contingent includes Ricky Shakes (Boreham Wood FC, ) Neil Danns (Bolton Wanderers), Matthew Briggs (Millwall FC), Walter Moore (FF Jaro), Trayon Bobb (Caledonia AIA), Pernel Shultz (Caledonia AIA), Chris Nurse (Carolina Railhawks), Emery Welshman (Real Monarchs), Kevin Beaton (USA), Brandon Beresford (Canada), Adrian Butters (Toronto FC), Daniel Whyte (Canada), Anthony Whyte (Canada), Akel Clarke (Central FC) and newcomers Sam Cox, Marcel Barrington and goalkeeper Matthew Allick.
On the local side, Vurlon Mills (Slingerz FC ) will lead the contingent which also include Jamaal Smith (Alpha United), Chris Camacho (Alpha United), Sheldon Holder (Alpha United), Kanata Manning (Alpha United), Derrick Carter (Western Tigers), Sheldon Holder (Alpha United), Eon Alleyne (Guyana Defence Force),  King Solomon Austin (Slingerz FC), Colin Nelson (Slingerz FC), Joshua Brown (Slingerz FC), Dwayne Jacobs (Slingerz FC) and Clive Nobrega (Slingerz FC).
The final roster is expected to be named on Saturday while the team is expected to depart local shores on June 8th. On the U23 side, Guyana will open their campaign for their Caribbean Football Union (CFU) leg of the 2016 Olympic Qualifiers in Aruba on June 24th. In their opening fixture, Guyana will oppose Antigua and Barbuda.
They will then play the hosts two days later before ending their campaign against giants Cuba on the 28th. The members of the training squad includes Kareem Knights, Deon Alfred, Delon Lanferman, Ronaldo Dover, Devon Charles, Kevin Layne, Joshua Browne, Dominique Bobb, Sheldon Profit, Clive Matthews, Quason McAuley, Steffon Ramsay, Ricardo James, Les Charles Critchlow, Ron Fiedtkou, Jamaal Harvey, Simon Emmanuel, Jumane Somerset, Daniel Wilson, Jermin Junior, Delano Mentore, Ashley Harding, Mark McLean, Kurt Johnson, Kevin Dundas, Omar Jones, Leon Lovell and Trevor Jones.
Winners of the resulting groups will progress to the final round of the tourney between August 14th and 16th to contest an elimination tournament. The top two teams from this section will advance to the 2015 CONCACAF Men's Olympic Qualifying Championship, joining the trio of Mexico, USA and Canada.
Around the Web