By Orin Davidson
One day made the world of difference in the career of national 400m champion Winston George on Sunday in New York.
Twenty-four hours after a confidence-denting performance at the Adidas Diamond League competition, George rebounded to smash his own national record with an excellent 45.31 seconds sprint around the Icahn Stadium to win the United States of America Track and Field (USATF) federation's Eastern Regional Championships 400 metres event. According to the meet's website, George's display, which also included victory in the 200m, capped a good day for three other Guyanese athletes as Alita Moore and Jeremy Bascom also recorded victories.
In the process, George, representing Central Park club, claimed his second national record in a year after he stopped the clock at 45.57s in June of 2014 to eclipse a long standing standard of 45.65s held by Richard Jones.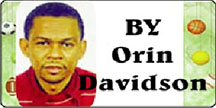 It was at the said Icahn Stadium, George etched his name in the record books, in placing third at the Adidas Diamond League's 400m 'B' race.
In stepping up to the International category 400m in the 2015 Diamond League event on Saturday, George wilted on a searing hot day and only managed 46.37s for eighth place.
But he was back to his best one day later, besting the field for a big win in the lesser acclaimed Eastern Championships.
Fellow Guyanese Stephan James, competing unattached, was listed with the second best time at 45.75s, but the official second place finisher Terran Livingston clocked a modest 48.02s.
"I just had to bounce back", George messaged on Facebook yesterday.
With his 45.31s run, George killed two birds with one stone as he cracked the 400m qualifying standards for both the World Championships slated for August and the Rio Olympic Games, listed at 45.50s and 45.40 respectively.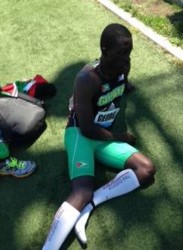 His coach Joe Ryan had predicted that the Guyana Police Force Sergeant would make the standards one day earlier at the Diamond League meet. He stated that the Guyanese sprinter showed early season form with a 45.55s performance this year, but had a bad day from lane one on Saturday.
In a brief e-mail Sunday, Ryan stated that George sprinted the first 200 of the 400m in 21.3s and the other half in 24.0s, for a "very nice double by any standard".
In the 200m final George recorded 20.62s while James was pipped into third place, clocking 20.92 to second place finisher Paul Dedewo's 20.91.
Moore found some of her best form since moving to New York by carting off the women's 200m title in 24.01s and recorded the second best 400m time in 55.67s.
Short sprint specialist Jeremy Bascom cashed in to capture the men's 100m title despite finishing in a dead heat with Andre Marcano in 10.61s.
Around the Web