Trevon `Bugsy' Griffith, the now ex-Guyana Jaguars opener said yesterday his drafting to the Jamaica franchise ahead of the 2015/16 Professional Cricket league (PCL) four-day tournament was just a career stepping-stone and another opportunity to showcase his skillset in the longer format of the game.
The left-hander, who made his first-class debut for Guyana back in 2012, ironically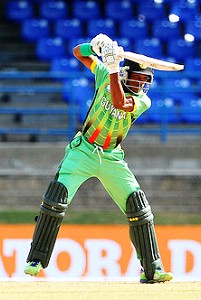 against his new team Jamaica, told Stabroek Sports during a brief exclusive from Barbados where he is currently preparing to engage the home team in today's first match of the 2015 Hero Caribbean Premier League (HCPL) T20 tournament, that as a professional these things happen.
"I'm happy to be in the mix of it, it's not where I would be most comfortable but as a professional I would certainly have to make myself at home and do what I have to do, which is go out and play cricket."
Griffith, who has played seven matches in the longer version for Guyana will be keen on upping his current career average of 13.66 and will also need to convert good starts into three figures come this season with his new team.
He has so far scored only one half century.
However, at the still tender age of 24, the former West Indies Under-19 player has already declared that this occasion has come at a time in his career where he will be looking to exhibit more maturity and professionalism as a senior regional cricketer.
"Things really do happen for a reason, I personally think it's an opportunity for me to showcase my skills more especially in the longer format".
The opener's loss for the local Guyana Jaguars franchise is a blow especially in the shorter formats where the left-hander is more regarded as a threat, due to his aggressive approach. Guyana also lost middle-order batsman Narsingh Deonarine who will represent the Leeward Islands Volcanoes for the upcoming season.
Comments

The Guyana government stepped in on Friday and bailed the Guyana Rugby Football Union (GRFU) out of its financial predicament allowing for the male and female rugby teams to compete at this year's Rugby America's North (RAN) 7s Championship this weekend in Mexico.

KOLKATA, (Reuters) – India's captain Virat Kohli staved off the threat of defeat before their fast bowlers ensured the hosts finished on a high in the drawn opening test against Sri Lanka in an enthralling final day at the Eden Gardens yesterday.

The 2017 edition of the Guinness 'Greatest of the Streets' George-town Championship was officially launched yesterday at the Thirst Park Sports Club.
NEW YORK, (Reuters) – A government witness in the U.S. corruption trial related to soccer's world-governing body FIFA testified yesterday about millions of dollars paid to former soccer officials in exchange for broadcasting and sponsorship rights for international tournaments, all logged in a secret spreadsheet.

Young Achievers Volleyball club was once again the dominant force on the Demerara volleyball circuit after downing their counterparts from the Vanguard Volleyball club in straight sets in the final of the Demerara Volleyball Association (DVA) Men's 'B' division playoff played at the National Gymnasium, Sunday evening.