Trevon `Bugsy' Griffith, the now ex-Guyana Jaguars opener said yesterday his drafting to the Jamaica franchise ahead of the 2015/16 Professional Cricket league (PCL) four-day tournament was just a career stepping-stone and another opportunity to showcase his skillset in the longer format of the game.
The left-hander, who made his first-class debut for Guyana back in 2012, ironically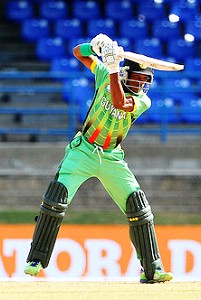 against his new team Jamaica, told Stabroek Sports during a brief exclusive from Barbados where he is currently preparing to engage the home team in today's first match of the 2015 Hero Caribbean Premier League (HCPL) T20 tournament, that as a professional these things happen.
"I'm happy to be in the mix of it, it's not where I would be most comfortable but as a professional I would certainly have to make myself at home and do what I have to do, which is go out and play cricket."
Griffith, who has played seven matches in the longer version for Guyana will be keen on upping his current career average of 13.66 and will also need to convert good starts into three figures come this season with his new team.
He has so far scored only one half century.
However, at the still tender age of 24, the former West Indies Under-19 player has already declared that this occasion has come at a time in his career where he will be looking to exhibit more maturity and professionalism as a senior regional cricketer.
"Things really do happen for a reason, I personally think it's an opportunity for me to showcase my skills more especially in the longer format".
The opener's loss for the local Guyana Jaguars franchise is a blow especially in the shorter formats where the left-hander is more regarded as a threat, due to his aggressive approach. Guyana also lost middle-order batsman Narsingh Deonarine who will represent the Leeward Islands Volcanoes for the upcoming season.
Comments

Hector Edwards, Secretary General of the Guyana Olympic Association (GOA) said last night that he expected the Guyana team to this year's South American Youth Games in Chile to do well.

MANCHESTER, England, CMC – West Indies' dismal One-Day International form continued with a seven-wicket defeat to England in the critical opener at Old Trafford here yesterday, a result that condemned the Caribbean side to a 10-team qualifying tournament in order to reach the 2019 Cricket World Cup.

Port Mourant Training Centre1 (PMTC1) and the GuySuCo Training Centre Port Mourant1 won the senior and junior divisions of the Berbice Volleyball Association in collaboration with Kendall Union Sports Club (KUSC) Mark Henriques Memorial volleyball tournament Sunday at the KUCS ground, Number 19, Corentyne, Berbice.

MANCHESTER, England, CMC – Skipper Jason Holder said yesterday West Indies had let themselves down with "inconsistent" bowling after they lost the opening One-Day International of the five-match series by seven wickets to England.

LONDON, CMC – Little fireworks accompanied West Indies opener Kraigg Brathwaite's English County debut yesterday as he failed on the opening day of Yorkshire's penultimate match in Division One.