Guyana's national Under-23 football team yesterday paid a courtesy call on Director of Sport, Christopher Jones at his office at the National Sports Commission building.
The U23 footballers are preparing for the Caribbean Football Union (CFU) 2016 Olympic Qualifier in Antigua and Barbuda and the team is expected to be named today.
Yesterday's delegation included head coach Jamaal Shabazz, Daniel Wilson, Daniel Whyte, Trayon Bobb, William Europe and Joshua Brown.
The General Secretary of the Guyana Football Federation (GFF) Richard Groden was also present as was popular football promoter Frank `English' Parris.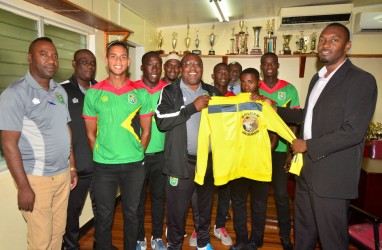 Jones told the delegation that the nation was fully behind them.
"On behalf of the Government of Guyana, I would like to wish you guys all the best and know that the entire Guyana is fully behind you," he declared.
The team is expected to leave Monday for Antigua and Barbuda where they will compete with Antigua on June 24, Cuba on June 26 and Aruba on June 28.
Jones exhorted the players to be good ambassadors off the pitch.
"I can tell you that as Director of Sport, I will try my best to ensure that you guys are afforded with the necessary facilities needed to excel in the sport and even off the field. We will work together to also ensure that you can focus on the game and not what happens outside of it, but I want to thank you for visiting me today (Yesterday)" Jones said.
Shabazz, in brief remarks said that he was thankful for the confidence Jones had in the squad adding that Guyana has a young sports leader who seems to understand the ingredients necessary to help the sport develop.
He then gave Jones Golden Jaguars memorabilia as a token of the team's appreciation of his support and declared: "You're now officially a Golden Jaguar.
"I want to welcome you to our team and hope that you would continue showing good leadership and truly help sports to grow in Guyana."
Around the Web