Guyana's Hugh Ross is once again the best Master's over-50 bodybuilder in the world.
Ross was the top muscleman from a field of 11 bodybuilders in the Masters' category at the 33rd NABBA World Bodybuilding Championships yesterday at the Dolmen Resort Hotel and Conference Centre in Qawra, Malta.
The 55-year old behemoth, who took the stage with 200lbs of shredded muscle, shrugged off pre judging cramps in his quarter turns routine to finish ahead of Wales' Justin Trollope.
Third was Ken Prescott from the UK.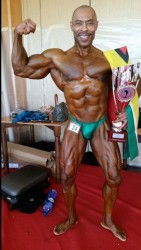 "I feel immensely satisfied," said Ross yesterday.
"For a number of reasons, last year, according to the judges, it was extremely close with a one point difference between myself and Gary Lister (10-time Mr. Universe Masters) and that did not sit well with me.
So I had that chip fetching on my shoulder for the entire year, so when I decided to commit to preparation for this particular event, I left no stones unturned."
As customary, the entire category was brought on stage for the mandatory quarter turns, then individually to execute their routines then again as a group for comparisons. Ross, who also won the event in 2012, was flawless in his execution.
"According to everyone's views including the judges, I got the job done quite impressively. There was first, which was me and quite a gap before you got second which was my intention because you want to win with no questions, doubts or arguments, you need to be the clear victor."
Ross who celebrates his birth anniversary on Friday, indicated his victory was a fitting birthday gift to himself.
The decorated athlete returns to his adopted home in New York on Wednesday after a stop in Rome, Italy, thereafter he will resume his normal duties at work as a law enforcement officer.
"Since I was a kid I wanted to visit Rome, I have a passion for Roman history, the Roman Empire and moving on to what current in the shows likes Spartacus. Having said that I will definitely be visiting the Coliseum (four million visitors a year) and the remains of Pompeii."
He then thanked this publication for continuous media coverage, his wife, Dr. Allison Ross, his mother, siblings and other family members for their support. (Emmerson Campbell)
Around the Web