Jonathan Jagdeo, Jamal John, Adrian Sharma and Alex Leung were the standout cyclists yesterday when the Guyana Olympic Association (GOA) teamed up with the Guyana Cycling Federation (GCF) to observe World Olympic Day with five BMX races at the National Park.
Jagdeo (BMX 9-12 and BMX 12-14 years) pedaled to two wins while John (Juniors and Juveniles), Sharma (BMX Open) and Leung (BMX 6-9 years) were victorious in the events they entered.
As customary on June 23 (Tuesday), World Olympic Day is celebrated by youths around the World to observe the Olympic values of Fair Play, Perseverance, Respect and Sportsmanship.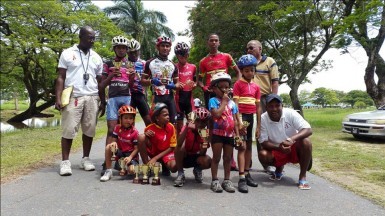 The GCF and the GOA did their part in observance of the annual event yesterday with the staging of a BMX programme.
The olympic.org website states that "Olympic Day is celebrated all around the world: hundreds of thousands of people – young and old – participate in sports activities, such as runs, exhibitions, music and educational seminars. Over the last two decades, the event has helped to spread the Olympic ideals to every corner of the world."
Over the past few years, Olympic Day has been celebrated under the three pillars – Move, Learn and Discover.  Move encourages persons of all ages and abilities to be involved in some form of physical activity; Learn involves the teaching of Olympic Values and providing information on the positive effects of sport on society; Discover encourages persons to attempt sports which they have not previously tried.
Before the presentation of prizes, organizer of the event, Hassan Mohamed and thanked the participants and the GOA for their input in the initiative over the past years. (Emmerson Campbell)
Quick Results:
BMX Boys Open – 3 Laps
1st) Adrian Sharma, 2nd) Jonathan Jagdeo, 3rd) Brighton John
 BMX Boys 6 to 9 yrs. – 2 Laps
1st) Alexander Leung, 2nd) Christopher Goring, 3rd) Esau Jaisingh
 BMX Boys 9 to 12 yrs. – 3 Laps
1st) Jonathan Jagdeo, 2nd) Christopher Goring 3rd) Esau Jaisingh
 BMX Boys 12 to 14 yrs. – 3 Laps
1st) Jonathan Jagdeo, 2nd) Thuran Garbarran, 3rd) Alexander Leung
 Juveniles and Juniors– 10 Laps
1st) Jamal John, 2nd) Raphael Leung, 3rd) Brighton John
Around the Web