Alanzo Greaves (Roraima Bikers) gained confidence with his winning performances during the last two races of his six-week stint on the US racing circuit; confidence that he will put to use in aiming for the National Road Race Championship this weekend.
After missing last year's edition to train overseas for the Commonwealth Games, Greaves hopes to stand on the podium when the event is staged on Sunday.
"I'm very confident because the course suits me" Greaves said yesterday. "It's a sprinter's course so if it comes down to a sprint finish I'm supposed to be in the 1 to 3."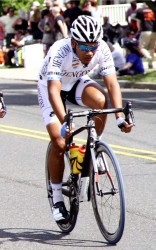 Greaves won the championship in 2007 then finished second in 2012 and 2013.
The national rider will be pushing his black and white Obera racing cycle to the limits in hopes of going one better than the silver when the 85-mile race pedals off at the Ocean View Hotel at midday.
With the Team Evolution wheelsmen (Orville Hinds, Michael Anthony, Raul Leal, and Marlon Williams) on a tear, a win for Greaves will be tough but he is in a positive state of mind.
"I feel with the form I'm in though, I should be in the ball park, and we'll see where we are on the day. In the back of the mind you build yourself up mentally and tell yourself there is a chance you could win it."
Greaves counts four wins this year so far in total. Winning on Sunday would be his fifth and most satisfying yet.
"I would love to get the win, it's a big ask but I am confident and will do my best." (Emmerson Campbell)
Around the Web