Charlestown Secondary overcame a two-goal deficit to defeat Central High 4-3 on penalty kicks when the 5th edition of the Digicel Secondary Schools Football Championship continued yesterday at the Tucville Community Ground.
Charlestown Secondary got off to a bad start in the fixture as Cordel Gaskin found the back of the net for Central High, etching his name on the scorer's sheet compliments of a 31st minute strike.
It would then go from bad to worse for Charlestown Secondary as Central High doubled their lead three minutes onward as Orwin Hunte found the back of the net.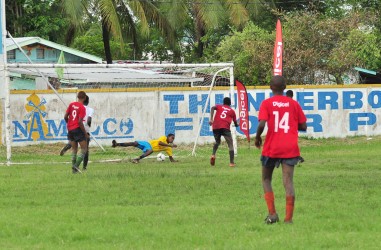 However, Charlestown Secondary would commence the comeback in the 52nd minute of the second half interval compliments of a Lukard Ford effort.
Charlestown would then equalise the hard-fought engagement 17 minutes later as Diquan Osbourne added his name to the scorer's sheet.
Unable to find a winner in the remaining minutes of the second period and with no extra periods allotted, the fixture would venture into the realm of a penalty shoot-out.
Nonetheless, with the momentum squarely in their corner, Charlestown Secondary would seal the come- from-behind win, netting four of their five allotted strikes from mark while Central High missed twice from the spot to seal their berth in the next round.
Over at the Skeldon Community Centre Ground in Region #6, Guysuco Training Centre hammered Central Corentyne Secondary by a 4-0 score line. Action in the event is slated to continue today with several matches at various venues.
Around the Web