LONDON, (Reuters) – Former captain Andrew Flintoff believes Ben Stokes can become one of England's greats and rates the all-rounder as a more talented player than he was.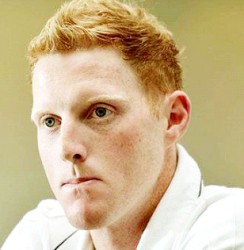 Flintoff played a major role in England's Ashes success in 2005 — their first for 18 years — when his 24 wickets and 402 runs drew comparisons with Ian Botham, one of the world's all-time great all-rounders.
The 37-year-old told the BBC that the New Zealand-born Stokes has shown more talent than him since his test debut in Australia 18 months ago.
"I was a pretty unskilful cricketer," said Flintoff, who was forced into retirement by a knee injury in 2009 after 79 tests and 141 one-dayers. "I survived a lot on bravado and trying to use my size.
"It's always hard when people get compared but I think Stokes should set his standards a little bit higher rather than think about me.
"I think Stokes has a lot more skill. He could be one of England's greats."
Flintoff took 226 test wickets and also scored 3845 runs, including five centuries.
Stokes made 92 and 101 in the first test against New Zealand at Lord's, which England won by 124 runs, and also took three wickets in the second innings to be adjudged man-of the-match.
He is expected to be a key player for the hosts in the forthcoming Ashes series, which begins with the first test in Cardiff on July 8.
Flintoff is optimistic about England's prospects, despite the side being whitewashed 5-0 in Australia in 2013-14.
Around the Web