Three-time defending champs Christianburg/Wismar Secondary began their title defence in a superb manner, trouncing New Silver City Secondary 4-0 in their semi-final affair when the 5th edition of the Digicel Secondary Schools Football Championship continued yesterday.
Hosted at the Wisburg Ground in Linden, Kendolph Lewis opened the scoring for the winners with a 23rd minute conversion. Omar Brewley would then make it 2-0 as he netted 11 minutes onward.
The score line would continue to expand as Amar Jones found the back of the net compliments of a 54th minute conversion. Antwaine Gill would eventually complete the result as he netted through a 76th minute strike.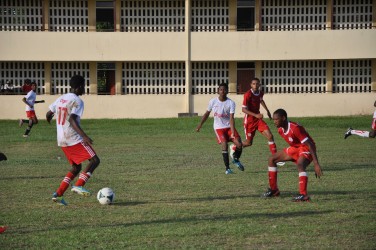 With the win, Christianburg/Wismar now advance to the final of the Linden zone. They will now await the victor of the other semi-final between Mackenzie High and Kwakwani Secondary.
In the Georgetown Zone, Dolphin Secondary dismantled Sophia Special School by a 9-0 margin. Sceron Thegg scored led the way with a double in the fifth and 12th minutes while Ryan Dowding also netted a double in the 12th and 28th minutes.
Completing the score line with solo efforts were Malachi Adonis, Shawn Mohammed, Matthew Bristol, Shamar Tanner and Akeem Daniels in the second, 22nd, 26th, 30th and 35th minutes respectively.
Over at the Ministry of Education ground, Cummings Lodge Secondary downed Nehemiah College 8-2. Elroy Bristol recorded a second half hat-trick in the 58th, 65th and 70th minutes while Frederick Ketwaroo began the rout with a double in the 12th and 25th minutes.  Sealing the result were Denzil Price, Shaquille Innis and Zeemario Johnny in the 14th, 32nd and 56th minutes respectively. In the Region Three Zone at the Den Amstel Community Ground, Uitvlugt Secondary defeated Vreed-en-Hoop Secondary 3-0.
Over at the Skeldon Community Centre ground, JC Chandisingh hammered Overwinning Secondary by a 9-3 margin while Ash Educational Trust downed Mahaicony Secondary by a 4-1 score line at the Mahaicony Community ground.
At the Victoria Community ground, Ann's Grove edged Buxton United 4-3 on penalty kicks after normal time ended 2-2. Action in the event is slated to continue today with several matches at various venues.
Around the Web