(CPLT20) Chris Gayle scored 9 off 13 balls and failed to ignite the Tallawahs innings before their middle-order gradually subsided to the growing pressure to fall short on a thrilling evening.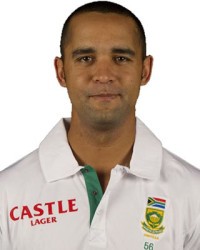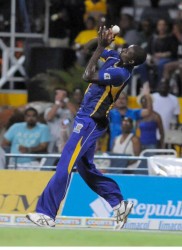 Peterson dismissed Chadwick Walton and Mahela Jayawardene in the space of three balls in the eighth over of the Tallawahs innings and from that point onwards the visiting team were playing catch-up.
Chris Lynn and Horace Miller put up some resistance for the Jamaican team, both making more than 30, to keep their team's hopes alive and Andre Russell briefly threatened to pull off a remarkable comeback but when he fell Jamaica's hopes died with him and ultimately the Tridents bowling was too good and the total perhaps a little too steep.
It probably should have been even steeper. The Tridents were given a wonderful platform by opening partnership Dwayne Smith and Dilshan Munaweera who put on 57 for the first wicket before Shoaib Malik joined in on the fun to leave the home side in a great position to register an imposing total.
However, the Tallawahs bowled well in the middle-overs to pull the Tridents back before a late flurry of boundaries saw 50 runs scored off the final four overs to elevate the home side to 161-4. Smith was the top-scorer with 56 but Jonathan Carter's 5-ball 17 was integral in giving the Tridents that valuable fillip which later proved to be crucial to their victory.
The Tridents are now two points clear at the top of the table and play again on Thursday against the Trinidad and Tobago Red Steel who had their first match of the season against the St. Lucia Zouks abandoned.
The Tallawahs next play on Sunday against the Zouks.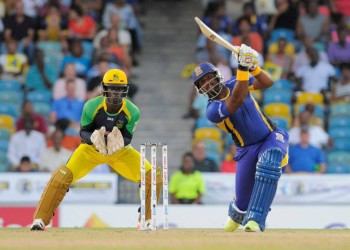 Scoreboard
Barbados Tridents innings
D Smith b Russell                               56
D Munaweera c
Russell b Theron                                  24
Shoaib Malik     not out                       43
K Pollard* c Theron b Santokie             5
J Carter† c Russell b Taylor                 17
J Holder not out  9
Extras(lb 3, w 4)                                    7
Total (4 wickets;20 overs )               161
Did not bat : ND Stewart, RJ Peterson, AJ Hosein, RR Emrit, R Rampaul
Fall of wickets 1-57 (Munaweera), 2-117 (Smith), 3-128 (Pollard), 4-147 (Carter)
Bowling: Santokie 4-0-47-1,Vettori 2-0-15-0, Taylor 4-0-32-1,Theron 4-0-19-1, Miller 2-0-15-0, Russell 4-0-30-1.
Jamaica Tallawahs innings
C Walton† b Peterson                          23
C Gayle* c Holder b Emrit                    9
C Lynn c sub (KAM Corbin)
b Peterson                                            37
M Jayawardene st †Carter
b Peterson                                              0
H Miller c Stewart b Pollard                30
D Vettori c sub (KAM Corbin)
b Pollard                                                 1
A Russell c Pollard b Rampaul              12
J Theron c Holder b Rampaul                4
J Taylor not out  6                                 11
K Santokie  c †Carter b Emrit               13
N Miller not out                                    0
Extras(b 4, w 6)                                     10
Total (9 wickets; 20 overs)               145
Fall of wickets 1-38 (Gayle), 2-50 (Walton), 3-50 (Jayawardene), 4-101 (Lynn), 5-103 (Vettori), 6-118 (Russell), 7-124 (H Miller), 8-127 (Theron), 9-145 (Santokie)
Bowling: Holder 4-0-31-0, Rampaul 4-0-21-2, Emrit 4-0-30-2, Peterson 4-0-26-3, Stewart 1-0-12-0,Pollard 3-0-21-2.
Result: Tridents won by 16 runs
Points: Barbados Tridents 2, Jamaica Tallawahs 0
Toss – Barbados Tridents.
Umpires – N Duguid and M Martell; TV P Nero