The Association do Shotokan Karate of Guyana (ASK-G) is geared and ready for the International Karate Daigaku (IKD) World Cup in Canada next month.
According to a press release, the 2015 IDK World Camp and Cup will be held at Ryerson University, Toronto, Ontario from July 15 – 19.
Team ASK-G has both seasoned and new competitors who are all ready to test their skills against the world's best.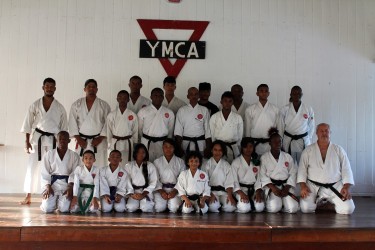 The release said that ASK-G will have a strong presence with karatekas such as Sensei Nathalie Gibson, the current reigning adult women's Kumite (Sparring) World Champion. Other strong competitors include Kemo Cornelius, Shane Wilkinson, Nixon Cheeks, Leah Shariff, Theresa Sampat, Prince Alguedowan and Kelly Ann Fortune, who will be leading the charge in the Under-18 divisions.
Meanwhile, in the men's adult division Patrick Cheeks, Keith Beaton, Jason Jerrick, Parmeshwar Persaud and Roger Peroune will battle to further prove their astounding abilities.
Sensei Amir Khouri 6th Dan who is confident in everyone's ability manages the team's training, the release said, assisted by Gibson – 4th Dan and Peroune – 3rd Dan and their specialities are Kumite and Kata respectively.
The release said the team is confident that it will keep the Golden Arrowhead flying high and make Guyana proud.
Around the Web