COLOMBO, (Reuters) – Sri Lankan great Kumar Sangakkara will quit international cricket during the test series against India in August, the island nation's most prolific batsman said yesterday.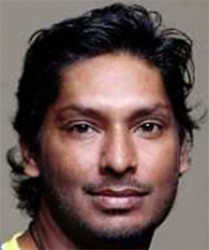 "I have decided to call it a day…(after) the second test of the India series," the 37-year-old told reporters on the sidelines of the ongoing second test against Pakistan of his decision to end a 15-yer-old illustrious career.
Sangakkara said he wanted to quit all formats of the game after Sri Lanka's World Cup campaign this year but promised to be available for the back-to-back home series against Pakistan and India.
"But at the same time I said that I would be unable to play six test matches. I could do four and if that was okay, I will give my 100 percent commitment to these four test matches," said Sangakkara who will skip the third and final test against Pakistan.
India arrive in early August to play three tests in Sri Lanka but the dates and the venues have not been finalised.
Around the Web