They did it in different ways, but Hamza Eastman and UK-based Claire Fraser-Green both finished on the top step of the podium as the national men's and women's road race champions yesterday.
Fraser-Green easily out-pedalled Marica Dick and Toshwanna Doris during the overcast morning while Eastman attacked late to win going away from second place finisher Alanzo Greaves in the drizzle later in the day on the Rupert Craig Highway.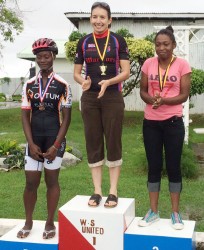 For Fraser-Green, it was deja vu as she claimed the title for the third consecutive year.
It was Eastman's first to savour.
"I am so happy for the win, this is big for me" said the fast rising 19-year old who has been recently campaigning on the US circuit.
"I wasn't planning on coming for the race but Monty Davis bought my ticket to return and I'm glad that I won it for him.
I also want to thank my Coach, Dwayne Gibbs and Horace Burrowes for their support" Eastman added.
The Team Coco's standout who will quickly turn his attention back to the US circuit on July 8, was part of a thrilling finish to the grueling, rain soaked 149-km (93 miles) event after holding off Greaves and defending champion, Geron Williams.
The 19-year old was made to work hard for his victory, with Williams along with Greaves attacking in the final stages after a strong seven-man lead group had emerged after four laps.
Victory for Eastman should prove the ideal confidence booster when he returns to the US racing circuit.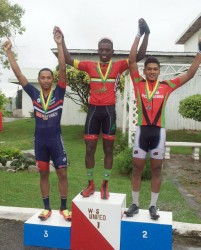 After a pedestrian start to the race opposite the Ocean View Hotel, the event did not have many talking points until the top three along with Paul DeNobrega, Michael Anthony, Orville Hinds and Scott Savoury broke away from the peloton and established a gap.
The unit rode in tandem until Williams, with a repeat on his mind, threw teamwork out the window with two laps (14 miles) to go. However, the heavy winds and the downpour was too much for Williams' solo effort and after DeNobrega dropped off the pace, Greaves, Hinds, Savoury, Anthony and Eastman reconnected to last year's winner at the bell lap.
The six riders then played a cat and mouse game until about a half mile to go.
Hinds rolled up the sprint in an effort to help his teammate Anthony but Greaves, Eastman, Williams and Savoury promptly responded.
After three hours and 40 minutes of riding, the riders dug deep and put on an epic display of sprinting. It was anyone's race at 200m to go. At about 100m to go, Greaves had a slight lead barreling to the tape, but a tireless Eastman just had enough gas left in the tank to edge his fellow national rider by a wheel.
Distaff Side 
UK based, Claire Fraser Green who won the Time Trial Championship on Saturday, took the champion's jersey for the road race after easily out-pedalling Marica Dick and Toshwanna Doris.

Quick Results 
Seniors 
Hamza Eastman
Alanzo Greaves
Geron Williams
Juniors
Romello Crawford
Jamal John
Kemuel Moses
Juveniles
Brighton John
Kamo John
David Sampson
Females 
Claire Fraser Green
Marica Dick
Toshwanna Doris
Veterans Under 45 
Junior Niles
Godfrey Pollydore
Warren McKay
Veterans Over 45
Talim Shaw
Kennard Lovell
Shameer Baksh
Yesterday's 149-km road race was the  second longest ever one-day event in local cycling history. Last year's road race (the longest ever) was 160.93 km (100 miles).
Around the Web