The Georgetown Amateur Basketball Association (GABA) officially presented their prizes for the recently concluded 'King of the Hard Court' Open and U-23 Championship yesterday at a ceremony held at the Starr Computers Conference Room.
GABA President Junior Hercules during a brief address said that while the tournament posed several challenges, the executives were happy to conclude their first event of the year which produced quality basketball across both formats.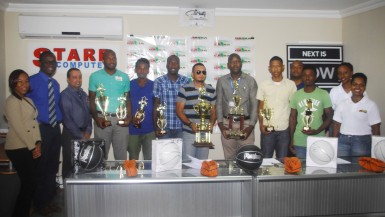 President of Starr Computers Michael Mohan said that he was honoured to be a part of the event.
"While my knowledge of basketball might not be good, we all have something in common which is that basketball is more than a sport but a discipline."
He said that the main aim was to train individuals to become leaders as well as a team to accomplish an objective, noting that his company is delighted to support any sporting entity and will continue to assist in the development of the sport going forward.
In the Open Category, Dynas Ravens collected the championship after defeating arch-rivals Trinity Grid Holdings (TGH) Pacesetters in the battle of the unbeaten sides. On the other hand, TGH Pacesetters walked away with the u-23 title after defeating Dynas Ravens.
In the individual section of the awards, Ryan Gullen of Dynas Ravens was adjudged the most valuable player (MVP) of the Open Category while Devon Murray (West Side Ballers), Ryan Stephney (Ravens) and Dorian Lewis (Republic Bank Nets) collected the most rebounds, most assists and most steals award respectively.
On the u-23 side, Nathan Saul of TGH Pacesetters walked away with the MVP accolade while Travis Belgrave (Eagles), Kelvin Yorrick (Plaisance Guardians) and Keon Evans (Eagles) received the most rebounds, most assists and most steals accolade correspondingly.
Similarly a basketball was presented to each of the divisional winners. Sponsors of the event include Ansa McAl under the Mackeson Brand, Starr Computers, KB Construction and Trophy Stall.
Around the Web