Fitness Express has once again answered the call of the Guyana Bodybuilding and Fitness Fitness (GBBFF).
The long standing benefactor of the federation has once agreed to be a part sponsor of the annual Senior Bodybuilding Championships scheduled for tomorrow at the Park Vue Hotel, Farm, E.B.D.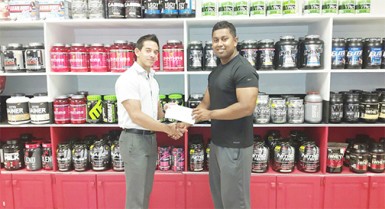 During a simple ceremony on Thursday at the entity's 47 John and Sheriff Streets location, its CEO, Jamie McDonald presented a cheque of a substantial sum to organizing secretary of the GBBFF, Videsh Sookram.
The funds will be used to offset some of the expenses of the tomorrow's event which will commence at 19:00hrs.
For the first time on the Senior stage, the Men's Physique segment will be contested along with the customary bodybuilding categories, Ms. Bikini and Ms. Body Fitness categories.
This year's event promises to be of a higher standard since many of the athletes have been through months of gruelling contest prep.
The show will also feature 16-time CAC welterweight champion, Hoskin Worrell of Barbados. He will be the special guest poser for the night.
According to treasurer of the federation, Moressa Oscar recently, "there will be 35 plus males and females on the stage."
Admission to the venue will cost $1500.
Around the Web