Alpha United continued its unbeaten run in the Guyana Football Federation (GFF) Stag Beer Elite League blanking Fruta Conquerors 2-0 Sunday at the Georgetown Football Club (GFC) ground to sit on top of the standings.
Delon Lanferman recorded a double for the 'Hammers' in the 44th and 68th minutes. With the win, Alpha United climbed to the top of the standings with eight points alongside Pele but clinched the top spot due to their superior goal difference.
Fruta Conquerors remain in the third position with seven points after failing to record a solitary strike on target in the matchup.
Billed as a battle of the heavyweights, the Tucville unit failed to get out of the block and almost conceded as early as the seventh minute as William Europe rifled a left footed strike from within the left side of the box, narrowly wide of the top left hand corner, after collecting a right side cross unchallenged.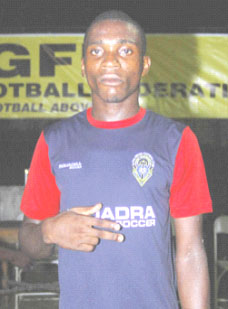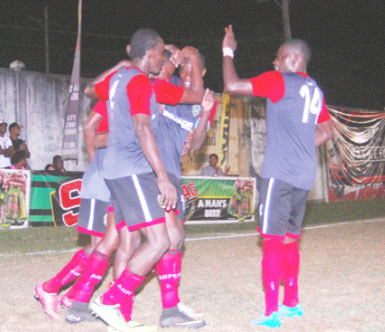 The chances continued to be created for the 'Hammers' as Europe was denied by custodian Delroy Dotson in the 26th minute, within the left side of the box after collecting another right side cross.
Dotson was then called into action in the 37th minute as Daniel Wilson blasted an effort from the top of the box, forcing the goalkeeper to parry the effort around the right upright.
Lanferman then sounded a warning shot in the 41st minute from the right side of the box, forcing a save from Dotson who tipped the danger at full stretch around the left post.
Nonetheless the 'Hammers' finally broke the deadlock one minute before the half time interval as Lanferman, upon receiving a cross from a left sided corner kick unchallenged within the centre of the box, directed his header down the centre of the goal.
The fixture continued in the same manner during the second period as Alpha United continued to fashion their chances, while restricting their opponents.
Grenadian International Kithson Bain almost etched his name on the scorer's sheet in the 59th minute, placing his effort wide of the left corner, after collecting a lobbed pass just outside the centre of the box.
The outcome was then sealed nine minutes later as Lanferman grabbed his second, pouncing on a loose ball after the defender missed a simple clearance before turning the final defender within the centre of the box and smashing his right footed attempt into the top left corner.
In the opening affair of the night, Buxton United secured their first points of the tourney, defeating Monedderlust FC by a 1-0 score line.
The winner of the round will pocket $4,000,000 while the second, third and fourth place teams will collect $2,000,000, $1,000,000 and $500,000 respectively. Similarly, the point's leader prior to the knockout stage in the League Genesis round will pocket an additional $1,000,000.
        Current Points Standings
Team                    GP          W           L              D             GF          GA          GD          Pts
Alpha United         4             2            0              2              6              2              +4           8
Pele                       4             2             0              2              8              5              +3           8
Fruta
Conquerors            4            2              1              1              5              5              0              7
Slingerz                4              1              0              3              4              1              +3           6
Guyana Defence
Force                  4              1              2              1              6              7              -1            4
GFC                    4              1              2              1              3              5              -2            4
Buxton
United                 4              1              3              0              2              5              -3            3
Monedderlust      3              1              3              0              4              7              -3            3
Around the Web