The fifth round in the Guyana Football Federation (GFF) Stag Beer Elite League will witness the renewing of old rivalries as Pele opposes Fruta Conquerors and the Guyana Defence Force (GDF) locks horns with Alpha United today at the Tucville Community ground.
The feature matchup at 20:00hrs will be a top-of-the-table clash as second-positioned Pele will try to continue its unbeaten showing in the event when they oppose third-placed Fruta Conquerors.
Pele will enter the matchup as the favourite due to their current form as they are the event's leading attack with eight goals. Gregory Richardson has been the catalyst for their strong showing with a tourney leading four goals alongside the likes of Deon Alfred, Ronel Gordon and youngster Julian Joseph.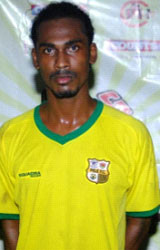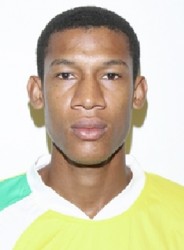 Defensively, Pele has conceded five goals currently and will hope that the likes of Jumane Somerset, Keoma Gravesande and Devon Charles can secure a clean-sheet when the battles commence.
Pele FC head-coach Justine Bentick said "Approaching the game against Fruta Conquerors, it will come down to the team that makes the least mistakes (that team) will win because Fruta Conquerors is a technically correct team as well as tactically sound".
Bentick further said "We are not underrating Fruta Conquerors, they are a good team and in order to come through successful, we have to continue to score goals and play good attacking and defensive football".
On the other side, Fruta Conquerors have recorded five goals to date, with Kwame La Fleur leading the count with two conversions followed by Eon Alleyne, Trevon Lythcott and Dennis Edwards scoring once.
On the defensive side, the Tucville unit has also conceded five goals and will hope to maintain that number as they look to their rearguard of Delon Williams, Lennox Charles and now returning Alex 'Scotland Youth' Murray between the uprights from a hip injury.
Head Coach of Fruta Conquerors Calvin Allen said "We lost points in the last game so we need to catch-up and definitely pick up all three points. We will definitely be going all out for the win as we need to secure points going forward to win the league".
He noted "having said that, we respect the Pele team and we know they have a lot of quality in their ranks. They have Gregory Richardson who is the leading scorer in the tournament. However in the last five meetings we have won four and lost once so we will be using that same formula and try to tighten up on the areas that we fell back on in the few games".
"I am quite confident that we will come out victorious on the day once we stick to our plans" Allen further added. In the opening affair, league leader Alpha United will hope to maintain their position when they oppose fierce rivals and fifth-placed Guyana Defence Force (GDF) from 18:00hrs.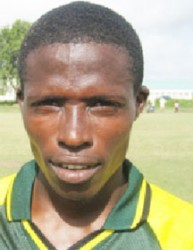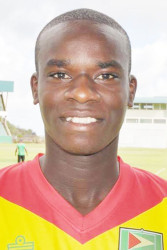 Offensively, the 'Hammers' have netted six times over the campaign and will attempt to continue that trend inspired by their dangerous frontline of Kithson Bain, Daniel Wilson, Delon Lanferman, William Europe and recent signing Dwayne Lawrence.
With regards to their defence, Alpha have been equally impressive, conceding only twice led by the stalwart combination of Quincy Madramootoo and Wayne Elias alongside the ever improving Sherwin Skeete and Dorville Stewart.
Alpha United coach Wayne Dover said "We will treat all the games with a level of respect given the fact that all opponents in this tournament are firm. We wouldn't be having any let up with being too overconfident because the Army is a team that has chalked up victories against us in the past".
He further said "We will be taking them very serious and hoping that we can demonstrate in the game the level of consistency that I spoke of. Given the fact that we played a disciplined game again Fruta Conquerors, we want to replicate that performance and result".
Similarly, the army unit will be out to prove that they are a better side than the fifth position they currently occupy. In attack, the Camp Ayanganna based unit has netted six times, with Delroy Fraser leading the assault with three goals in tandem with Eusi Phillips who has scored twice.
In the defensive ranks, GDF will need to solidify and improve their displays as they have conceded the joint most goals in the event with seven concessions.
Winner of the round will pocket $4,000,000 while the second, third and fourth place teams will collect $2,000,000, $1,000,000 and $500,000 respectively. Similarly, the point's leader prior to the knockout stage in the League Genesis round will pocket an additional $1,000,000.
        Current Points Standings
Team                       GP          W           L              D             GF          GA          GD          Pts
Alpha United            4              2            0              2              6              2              +4           8
Pele                        4              2           0              2              8              5              +3           8
Fruta Conquerors     4              2              1              1              5              5              0            7
Slingerz                  4              1              0              3              4              1              +3           6
Guyana
Defence Force     4              1              2              1              6              7              -1            4
GFC                         4              1              2              1              3              5              -2            4
Buxton United           4              1              3              0              2              5              -3            3
Monedderlust            3              1              3              0              4              7              -3            3
Around the Web