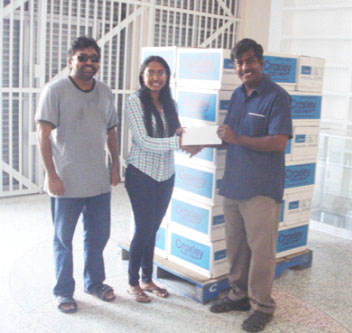 Next weekend's `Guyana Softball Cup 5' which bowls off at various venues in Georgetown has attracted yet another sponsor.
WJ Enterprise, of Regent Street, sole importer and distributor of Croxley paper, is the latest entity to support the Guyana Floodlights Softball Cricket Association (GFSCA) organisers of the tournament.
The competition, which will be contested in the Open and Masters categories bowls off on Friday at the Georgetown Cricket Club, Bourda, Police Sports Club Ground Eve Leary, Everest Cricket Club ground, Camp Road, Demerara Cricket Club ground, Queenstown, Guyana National Industrial Corporation ground, Woolford Avenue and the Malteenoes Sports Club ground, Thomas Lands.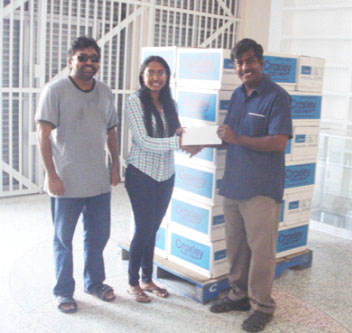 According to Teresa Naraine, manager of WJ Enterprise, the entity is happy to collaborate with the GFSCA once again because the tournament attracts many Guyanese from North America who return home with their respective softball teams and followers to compete with local teams.
US Mercenaries champion of New York Independence Cup 2015, will be taking part for the first time in "Guyana Softball Cup 5".
New York Softball Cricket League All Stars, winners of "Guyana Softball Cup 2" will compete against winners of "Guyana Softball Cup 4" and defending champions Wolf Warriors, Regal, Karibee Boyz, Corriverton, Farm and Zameer X1.
Floodlights are the defending champions in the Masters category, which will feature fifteen more teams.
Admission is $500.00 but children 15 years and under will be admitted free of charge.
Top cash prizes of $800,000.00 and $600,000.00 along with trophies are at stake.
Apart from three return tickets to Barbados and 12 hampers, there will be many giveaways compliments of STAG, Busta Soft drink, Steve Jewellery, Survival, Trophy Stall, Rubis Guyana, GTT, Clear Waters, Mikes Pharmacy, Rohan Auto Spares, A&R Jewanram Printery , WJ Enterprise and Ramchand Auto Spares.
Around the Web