KINGSTON, Jamaica, CMC – Andre McCarthy missed out on a maiden first class century as Jamaica Scorpions survived a middle order slump to rebound against Windward Islands Volcanoes in their Regional First Class Championship match here yesterday.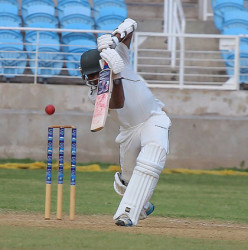 Opting to bat first, Scorpions finished the opening day of the second round match on 229 for seven at Sabina Park, with the 28-year-old McCarthy striking 92.
Opener John Campbell hit 43, David Bernard Jr, an unbeaten 32 while Barbadian import Kirk Edwards chipped in with 24.
Off-spinner and captain Liam Sebastien was the chief wicket-taker with five for 43.
Andre McCarthy strokes a delivery through the off-side during his top score of 92 for Jamaica Scorpions on Friday. (Photo courtesy WICB Media)
Jamaica suffered a poor start when they lost captain Paul Palmer without scoring to the fourth ball of the morning, with a single run on the board.
The dismissal extended the 23-year-old's dismal start to the season, with just six runs from three innings.
Campbell and Edwards then came together to add 70 for the second wicket and defy Volcanoes for close to the remainder of the session.
The left-handed Campbell faced 103 balls and struck three fours while Edwards hit one four in an 89-ball knock, before falling on the stroke of lunch.
His dismissal triggered a slide as four wickets crashed for 55 runs as Sebastien scythed through the middle order.
Slumping at 126 for five, Scorpions found hope in an 88-run, sixth wicket stand between McCarthy and Bernard.
McCarthy, in his tenth first class game, faced 167 balls in just under 3-1/2 hours at the crease and counted six fours and two sixes. Bernard, meanwhile, played the anchor role, consuming 123 deliveries and 167 minutes, without striking a boundary.
McCarthy seemed set for three figures when left-arm seamer Kenroy Peters came back to have him lbw at 214 for six and Sebastien struck another blow late on when he prised out Nikita Miller for eight.
SCOREBOARD
SCORPIONS 1st Innings
J Campbell lbw b Sebastien                                          43
*P Palmer c Sebastien b Mathew                                       0
K Edwards c Bobb Sebastien                                           24
A McCarthy lbw b Peters                                              92
B King c Bobb Sebastien                                                  17
+C Baugh lbw b Sebastien                                               8
D Bernard Jr not out                                                          32
N Miller c Bascombe Sebastien                                       8
D Jacobs not out                                                             0
Extras (lb5, nb1)                                                            6
TOTAL (7 wkts, 95 overs)                                          229
To bat: J Dawes, M Mindley.
Fall of wickets: 1-1, 2-71, 3-76, 4-106, 5-126, 6-214, 7-229.
Bowling: Mathew 17-6-25-1, Peters 14-3-35-1, Shillingford 20-2-50-0 (nb1), Bobb 24-5-72-0, Sebastien 20-4-43-5.
VOLCANOES – *L Sebastien, S Ambris, D Polius, K Lesporis, M Bascombe, T Theophile, D Smith, A Bobb, S Shillingford, K Peters, M Mathew.
Toss: Scorpions.
Umpires: C Taylor, Zahid Bassarath.
Around the Web