Despite the overcast conditions, Day Two of this year's National Schools Cycling, Swimming and Track and Field Championships had some commendable performances.
A few student athletes that stood out yesterday at the National Stadium were record breaker Keona George, distance athletes Claudrice McKoy and Selwyn Mingo and sprinters Jason Yaw and Natricia Hooper.
High Jump
George of Essequibo Coast/Pomeroon (District Two), broke the under-18 girls' school record in the high jump winning the event with a height of 1.5m.
The old record which was 1.47m set by Yolanda Fraser in 2012.
3000m Under-16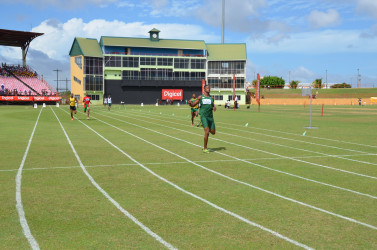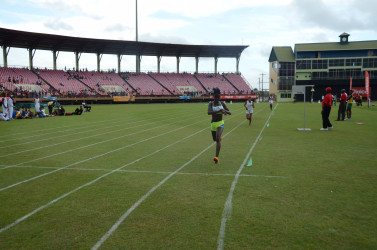 It was without surprise that McKoy took the gold in the two-mile event. The smooth striding athlete from North Georgetown (District 11) raced to the gold in a brisk 11 minutes and 24.9 seconds after fending off a brief challenge from Margaret Augusto (11m:27.6s) of District 9.
When the gun fired, McKoy made her intentions clear by racing to the front. She took Augusto and distant third place finisher, Aaliyah Moore (12m: 20.5) through the first 2000m.
However, at this point, Augusto showed her hand for the first time and took the lead from McKoy.
McKoy, however, bided her time until the final 150m where she began to pour it on. Augusto changed gears also but in the end, the turn of pace was simply too much and McKoy came home a clear winner.
Mingo (Upper Demerara/Kwakwani) however had to work much harder to fend off the challenge of Augusto's District mate, Francis Ignacio in the male segment of the 10-lap event. The Lindener (10m: 06.5s) edged Ignacio (10m: 96.7s) by two hundredths of a second in a close finish for the gold.
Ronaldo Wishart completed the podium in 10 minutes and 32.3 seconds.
400m 
National athletes, Jason Yaw and Natricia Hooper both looked in sublime form in yesterday's heats and are primed to finish at the top of the podium when the finals are staged on Friday.
Yaw cruised home about 10 meters clear to easily win his boys under-20 heat while Hooper (under-18 girls) turned on the jets in the final 50m to take the heat ahead of her club mate Avon Samuels.
The 100m and the 800m finals will highlight Day Three.
Action is set to start at 09:00hrs.
Around the Web